It's Family Night As Britney Spears Ends Her Femme Fatale Tour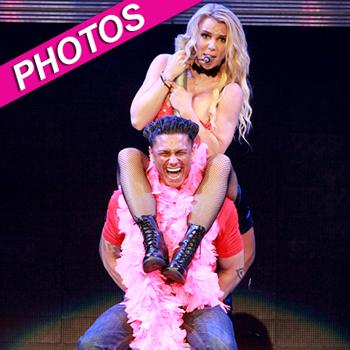 She's been around the world and back since her Femme Fatale tour began last June, and Saturday night it came to an end in San Juan, Puerto Rico.
Britney Spears celebrated by bringing her pal Pauly D back for one more performance, and giving him her trademark lap dance midway through the show. Several male members of the audience got called up on stage for the same treat.
Brit's family was there in force too. Her sons Preston and Jayden, boyfriend Jason Trawick, and sister Jamie Lynn with her daughter Maddie, all surrounded her for a final bow.
Article continues below advertisement
Her dancers celebrated by covering Spears with silly string.
The tour grossed hundreds of millions of dollars, was sold out in every city, and was even warmly received by most critics.
Now it's back to L.A. for Spears -- who turned 30 earlier this month -- and some legal business.
She has a scheduled conservatorship hearing on December 14. It's likely the conservatorship will finally be lifted, paving the way for Brit and Trawick's wedding.