Britney Spears Reveals Her Struggle To Stay In Shape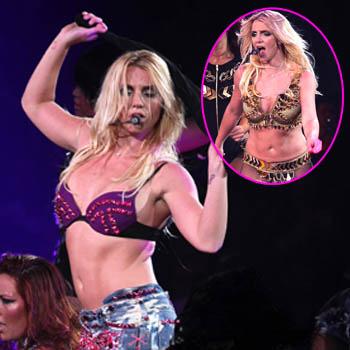 The usually silent Britney Spears recently opened up in an extensive interview, dishing on everything from her future life plans and her family, to how working out is her biggest daily challenge – and RadarOnline.com has the interview highlights.
"Trying to get up and go work out in the morning," the pop star explains as her biggest daily challenge during the interview with Peter Robinson of Stylist.co.uk. "I haven't worked out in, like, two weeks. Sometimes it's hard to be motivated. But once you get up and do it you feel like you've conquered the world."
Article continues below advertisement
Though Britney's bigscreen debut in 2002, Crossroads, was a total box office flop, the almost 30-year-old admits that she is looking at a couple of scripts.
After years in the public eye, Britney admits that she is more aware of who she really is and has a better idea of the "ins and outs" of things.
"I think as the years have gone by, and as I've evolved as an artist, I've put even more into my career, and after that amount of time you start to know exactly what you want. You feel a little bit more in your skin, in terms of who you are. And that just feels really nice."
Brit, whose dream collaboration would be with Gwen Stefani, also reveals that she is fond of one of her former Mickey Mouse Club costars.
"I'm a huge fan," Britney gushes about Ryan Gosling, "I think he is amazing. I think he's a wonderful little actor. He definitely has that 'something' on film; on camera, which is really cool. So I'm very happy for him."
To read Britney Spears' full interview, click here.