Exclusive
Britney Spears Marriage To Kevin Federline 'Inspires' Erotic Novel Written By His Aunt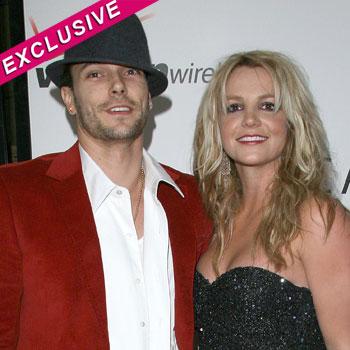 Kevin Federline's aunt Diane Story has written an erotic novel "inspired" by the former dancer's ill-fated marriage to Britney Spears. RadarOnline.com is exclusively reporting.
The tome, called Pop Baby Krissy Doucet, is centered on the inventively named characters Keenan Fazio and Krissy Doucet.
And to encourage book lovers to snap up the page turner, a lucky winner of her online contest will become the proud owner of "One Britney Spears & Kevin Federline Wedding Invitation!"
Article continues below advertisement
"The moment Krissy set her sights on Keenan, she knew he was amazing," the blurb for the book reads. "Choosing him at the club was one of the best decisions of her life. Yet how can she compete with the beautiful Tara Butler? A woman from Keenan's past who understands his sexual desires. Would sharing Keenan in Tara's bed be their only option for love?"
Britney got together with the back-up dancer in 2004 and they announced their engagement in July of that year while his ex-girlfriend Shar Jackson was still pregnant their second child.
Britney Spears Losing Millions On Sale Of Beverly Hills Mansion: Take A Peek Inside