Exclusive
Britney Spears Not Getting Married To Fiancé Jason Trawick Anytime Soon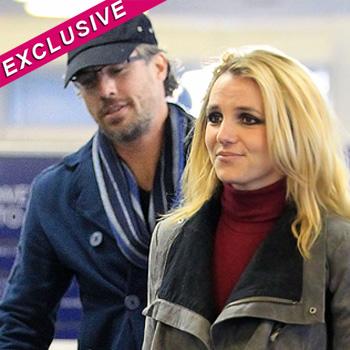 Britney Spears has no immediate plans to marry her fiancé, Jason Trawick, even though he is expected to be appointed as her co-conservator later this month, RadarOnline.com is exclusively reporting.
The 30-year-old Toxic singer has been under conservatorship for four years because of her public meltdown and hospitalization in 2008, and her father Jamie Spears won the legal right to control the Estate of Britney Spears.
Article continues below advertisement
Jamie has been making all decisions regarding his daughter's financial and business affairs with co-conservator, her lawyer Andrew Wallet. The men are also conservators over Britney, the person, meaning they have the final say on everything from where she lives to her medical care. It's in that capacity that Jason will have a role.
Jason will be in court on Wednesday, April 25 to formally ask Judge Reva Goetz to appoint him as a co-conservator of Spears.
"This is the natural step because Britney's dad, Jamie, hasn't lived with Britney in almost two years. Britney has been living with Jason and her two sons in a rental house for almost a year-and-a-half," a source close to the situation tells RadarOnline.com exclusively.
"Britney's medical doctors think it's a good idea to see how Jason will do as her co-conservator as he is planning on marrying Britney. The two will probably get married later this year, and not anytime sooner."
Article continues below advertisement
The pop music queen has told her psychiatrist and her court appointed lawyer, Samuel Ingham, that she's now ready to go it alone, but it looks like that won't be happening anytime soon.
"Britney has said that she feels she is ready to resume control of her life. She has expressed this sentiment on multiple occasions, but her doctor believes that Britney isn't ready for the conservatorship to be lifted. She has come a very long way in the last 18 months especially, but her team wants more time. Yes, Britney does live on her own with Jason, and her dad hasn't lived under the same roof with her for years, but she just wants to be able to call her own shots," an insider told RadarOnline.com.
"Britney doesn't have a problem with the conservatorship staying in place for her business. Remember, she doesn't have any formal custodial rights as far as her children are concerned. Kevin has agreed to essentially joint custody, but in the eyes of the law she has no rights and Kevin can revoke the agreement that is in place at anytime because of the fact that Britney is still under conservatorship."