Jason Trawick To Get Co-Conservator Role Over Britney Spears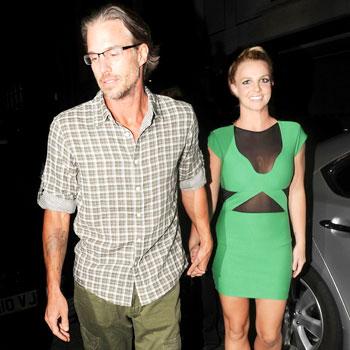 They haven't walked down the aisle yet but Jason Trawick has taken legal steps to have a bigger role in Britney Spears' life. RadarOnline.com can confirm that paperwork is being filed to make the former talent agent one of the pop star's conservators.
The 30-year-old singer has been under conservatorship for four years. After her public meltdown and hospitalization in 2008 her father Jamie Spears won the legal right to control the Estate of Britney Spears, making all decisions of his daughter's financial and business affairs with co-conservator, her lawyer Andrew Wallet.
Article continues below advertisement
The men are also conservators over Britney, the person, meaning they have the final say on everything from where she lives to her medical care.  It's in that capacity that Jason will have a role.
The move seems to be a compromise between the mom-of-two and her team. As RadarOnline.com previously reported, Britney says she wants the conservatorship to end.
The matter was discussed in a Los Angeles court last month. A source told us,  "Britney has said that she feels she is ready to resume control of her life…but her doctor believes that Britney isn't ready for the conservatorship to be lifted."
Britney and Jason got engaged in December. As RadarOnline.com previously reported she has been approached to become a judge on The X Factor.
For Britney and Jason to wed while she's still a conservatoree, it would have to be approved by all the conservators -- including Jason! -- and the judge.
RELATED STORIES:
Indecent Exposure! 10 Celebs Who Have Exposed Their Assets