Judge Dismisses Lawsuit Against Britney Spears & Her Parents!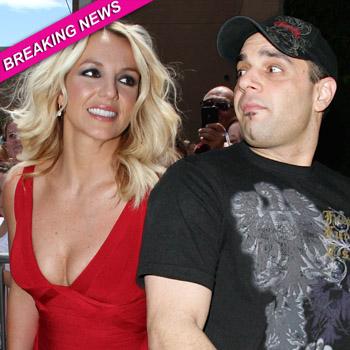 By Jen Heger - RadarOnline.com Assistant Managing Editor
After hearing two and a half hours of arguments Thursday afternoon outside the presence of the jury in the libel lawsuit that Britney Spears' one-time "manager" Sam Lutfi filed against the pop star and her parents, Judge Soussan Brugera dismissed the entire lawsuit against the Spears clan, RadarOnline.com is reporting.
As previously reported, Lutfi was suing Britney and her parents, Lynne and Jamie Spears for breach of contract, libel and defamation for comments Lynne made in a book about her life.
Article continues below advertisement
DOCUMENTS: Sam Lutfi's Lawsuit Against The Spears' Family Is Dismissed
In making her ruling this afternoon, Judge Brugera said dismissing the lawsuit was "the right thing to do."
Team Spears filed legal docs asking the judge to dismiss the lawsuit and said that Lutfi's claims of battery after Papa Spears allegedly punched him were bogus because, "He Lutfi admitted that he was not marked or bruised by the touching and in fact, he felt like he was going to be fine."
As for claims of libel that Lynne allegedly made in her book about Lutfi, the court docs state, "Sam Lutfi is unable to point to any evidence let alone clear and convincing evidence, that Lynne Spears subjectively believes the questioned passages in her Book were false, or even entertained serious doubts respecting their truth. The evidence is unequivocal that Lynne relied on her own personal observations and what Sam Lutfi told her. Her testimony in this regard was clear, unequivocal and unshaken during cross examination."
Article continues below advertisement
Lutfi tried in vain to have Britney testify at the trial, but the judge agreed with another ruling that the singer, who is still under a conservatorship, not testify because she isn't mentally competent to take the stand.
During the trial which was about to finish its second full week of testimony, it was revealed that Lutfi brought drug-sniffing dogs into Brit's house to detect any drugs, and a hit was made that allegedly identified crystal meth.
Lutfi was seeking more than $1 million dollars in compensation from work he says he did for Britney, but admitted that prior to meeting the pop star he had only made $10,000 from working on various projects in the entertainment industry.
After the hearing was over, Lutfi said he would immediately file an appeal.
Story developing...
RELATED STORIES:
Britney Spears' Return As A Judge On The X Factor's Third Season Is In Major Doubt