Exclusive
'He Said He'd Pay Her': How 'Manipulative' Hank Baskett Tried To Cover Up The Transsexual Scandal — Model's Best Friend Tells All In Video Confession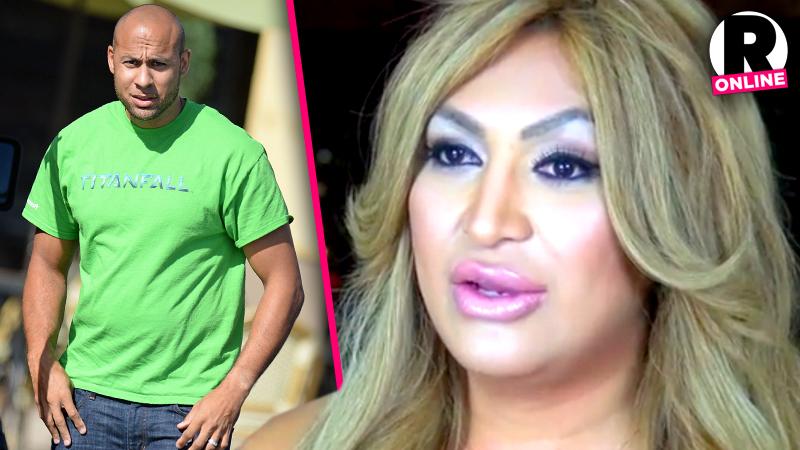 Hank Baskett's wife Kendra Wilkinson has said she'd be "dumb" to divorce him despite his alleged affair with a transsexual, because he's a good man. But according to Zhora Tillett -- the best friend of the mistress at the center of the scandal that has torn Baskett's marriage to Wilkinson apart – he's a "liar" and a "cheater" who desperately tried to silence Ava Sabrina London with thousands of dollars in cash. Tillett tells all in Part Two of RadarOnline.com's exclusive video interview.
Article continues below advertisement
Just days after Hank called London to set up a sexual rendezvous at her Sherman Oaks, Calif. apartment in April, Tillett says he quickly changed his tune from enamored fan to frantic father-of-two when their hot hook-up was about to make headlines
"We were making a video to upload to Youtube, Instagram, that's when her phone started ringing and ringing. I told her to just turn it off, she said, 'No, I'll just answer it and tell him I'm going to call him back,'" Tillett told RadarOnline.com. "That's when we realized it was Hank Baskett calling her pleading wither not to sell the story," said Tillett, who was also born a man, in an exclusive sit-down with RadarOnline.
"Ava was puzzled… she didn't really know what was going on either. He's like, 'the story about our encounter.' She was like 'Oh, I didn't do anything, I didn't sell anything," she added.
Tillett, who insists she also didn't go to the press, recalls that the reality star offered to pay London hush money as compensation for her silence about their bedroom romp, which included "mutual masturbation."
"He sounded a little desperate. He's like, 'I will match what they're giving you. I'll give you the same amount they're giving you,'" she claimed. "Hank Baskett was offering Ava money not to say anything about their encounter… He said he'd pay her within time."
Article continues below advertisement
At the time of the affair, Wilkinson, 29, was just weeks away from giving birth to their daughter Alijah and celebrating her fifth wedding anniversary with her former football pro hubby.
As RadarOnline.com was the first to report, in an audio recording dated May 29, a man that sounds like Baskett — and answers to the name "Hank" — can be heard begging the video vixen not to spill their secret.
"I just wanted to confirm that you hadn't said anything," "Hank" tells her on the tapes. "They just said two weeks before Kendra was pregnant that I hooked up … I hate to say it 'cause I would never say this word, but they said I hooked up with a tranny."
"Thank you so much, thank you," "Hank" says in the recording after she assured him she didn't say anything.
"You're making me feel so much better right now because you said you didn't say anything," he continues.
Tillett, however, remembers how his words went from hot to cold.
"I think Hank is a little manipulative. His words are very sweet he knows how to get to you, but… he's a liar he's a cheater, that's how he always gets what he wants," she said. "He was being all sweet, like 'Ava, I know you're a great person, please don't do this to me. I have my family. Kendra is obviously crying because she found out about the story.'
Article continues below advertisement
"At that moment I was really disgusted by him. Because he was calling Ava from his house… Kendra was crying upstairs and he obviously knew he met with Ava, he knew something was going on and he still tried to keep it silent. He still tried to pay Ava money not to say anything," Tillett said.
Eventually after London stopped taking his incessant calls, Tillett claims he was so determined to make sure his mistress didn't talk that he went to her house unannounced to bring her a "gift."
"It was early in the morning. Ava and I were watching TV when she got an anonymous call, she answered, it was Hank," she added. "He said he was around the neighborhood. He wanted to see her again. At this time I got scared for Ava because he's been calling begging her not to sell the story," Tillett said.
"I was like, 'what could he possibly want?' He knows there's something out there… I thought he wanted to threaten her," said Tillett. "A lot of things came to my mind when he said he was nearby and wanted to see her.
Article continues below advertisement
"He called back he said 'I'm here.' I look out the window and there's his car. I said 'Ava, I'm scared.' I don't know if I should call the cops," she admitted.
Kendra Punched Walls, Flushed Wedding Ring After Learning Hank Cheated
After realizing London wasn't going to pick up her phone during his mystery visit, he left some serious cash in a coffee cup near her pool.
"He was parked behind the building, he was parked there and calling. And Ava wasn't answering his calls at this time because she doesn't know what he's going to say. If he's going to be like 'oh, I'm watching you,'" said Tillett. "He said 'I have a gift for you. I have some money for you.' Ava didn't answer her phone so I think he text messaged her 'I'm leaving your gift out here, it's in a Starbucks cup of coffee, he left money there for her. Then when he drove off that's when I got curious as well… that's when he left $2,000 for Ava… and that there would be more coming for her."
WATCH Tillett's video confession: