'RHOC' Reunion: Vicki Gunvalson Slams Tamra Barney As A 'Bitter' Woman — & Questions Her Marriage To Eddie Judge!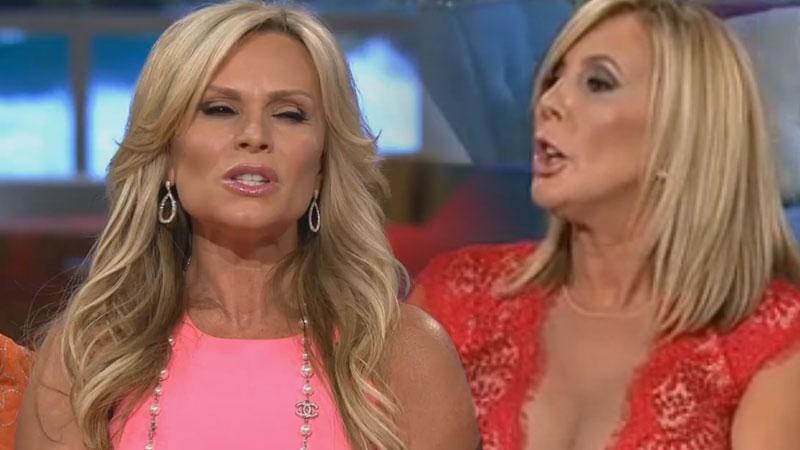 Article continues below advertisement
"She asked me! What do you want me to do? Lie?!" Barney asked.
"You do it all the time," Gunvalson said.
"F*ck you!" Barney shouted.
With the gloves off, Barney then sneered of Gunvalson's low profile this past season, "You sat back and you did nothing this year."
"I had a great year, are you jealous?" Gunvalson replied. "If you're so happy, why are you so miserable?
"You're supposed to be getting better and better and better, but guess what? You get bitter and bitter and bitter, that's what you do," Gunvalson told Barney.
Bringing up Barney's husband, Judge, she asked, "If you are so happily married, why are you so angry and ugly to the people who care about you?"
"I am extremely happy in my marriage," Barney insisted. "Why are you going there, nasty person?"
Gunvalson retorted, "Why are going in my relationship, nasty person? Stay the hell out of it and don't ever say f*ck you to me ever again."
Gunvalson was steamed and said Barney didn't even know Ayers (who as RadarOnline.com reported, was caught on tape threatening to beat up Gunvalson).
Article continues below advertisement
Watch the video on RadarOnline.com:
The single reality star added, "I've got options. I've got choices. That's what dating is about."
Sighing to Cohen about their complicated friendship, Gunvalson said, "I love Tamra. I've had amazing fun times with Tamra. Do I count Tamra as somebody I could count on thirty years away? I just don't know."
Barney took issue with her, saying, "I feel Vicki and I are really good friends because I do know some of her deepest darkest secrets and she knows some of mine and things that we've never repeated to anybody."
Getting teary-eyed, Barney said, "I am sorry for saying 'F*ck you,' but I am so hurt."
Watch the video on RadarOnline.com:
When co-star Rovsek chimed in, saying that everyone was hurt, Barney went ballistic.
"Shut up! Go sit over there," Barney said to Rovsek, indicating she should leave the reunion couch.
Rovsek replied, "You're so nasty."
"Please let me talk to my friend," Barney said.
As Barney and Gunvalson continued to discuss their friendship, Heather Dubrow handed Rovsek a Kleenex.
Article continues below advertisement
Barney then accused Gunvalson of making up rumors about Barney and her husband Judge.
"I would never, ever try to hurt you and Eddie," Gunvalson insisted.
Cohen then asked crying Rovsek what was wrong, and she said Barney had hurt her.
"I'm sorry but you irked me," Barney said. "The things you said to me were so hateful."
As RHOC viewers know, Barney and Rovsek feuded this season as Rovsek's feelings were hurt when Barney snubbed her birthday party.
The two also had conflicting stories on whether Rovsek had said Barney's husband had wanted to "f*ck" or "marry" the younger housewife during a truth or dare style game.
"I'm so p*ssed off I can't think straight right now," Barney said. "You don't say that to somebody's husband."
Rovsek said, "You're a bitter old lady."
Meanwhile, Shannon Beador was also wary of Barney, saying she had lied to her more than once this season.
Article continues below advertisement
On the reunion, Barney addressed her custody battle with ex-husband Simon Barney, saying he doesn't want full custody of their three children but noting, "He wants more custody than what he has. He took me to court over it."
Barney said she recently discovered a surprise ally in her battle with Simon — former co-star, Jeana Keough.
According to Barney, Keough "called and said, 'I'm so sorry. I can't believe he's doing this to you.
"I tried to call him and said, 'You don't do this to the mother of your children' … She said, 'if you want me to do whatever I can, I will.'"
Beador wanted fans to know her marriage to husband David is stronger than ever and they have taken four trips together since the show ended.
In fact, when they are recognized on airplanes, Beador said, fans give them a big YAY for staying together!
Host Cohen also said he'd received questions about what Barney had done to her face. Barney admitted, "I've been plumping up my lips for four years.
And "laugh lines right here," she said, gesturing to her mouth.
The ladies patched things up as the reunion ended with tequila shots, but it's anyone's guess who will return for the show's tenth season.