'RHOC's' Vicki Gunvalson Admits Flirting With Shannon Beador's 'Sexy & Hot' Husband David; Claims He Asked Her What Color Bra She Was Wearing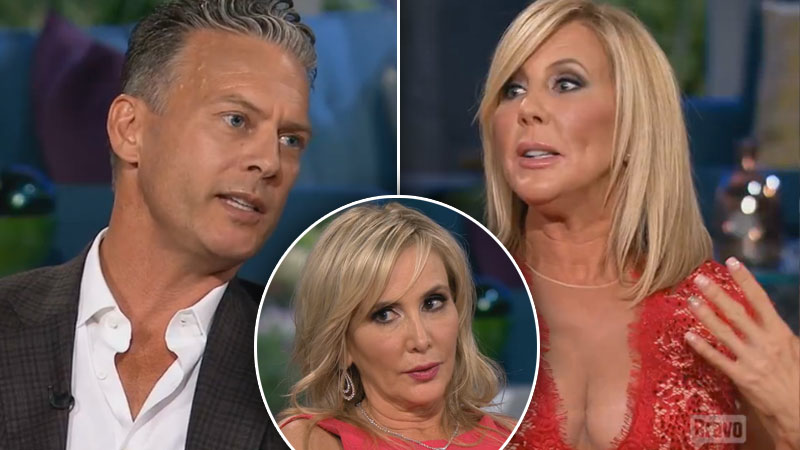 The Real Housewives of Orange County matriarch Vicki Gunvalson revealed she flirted with her co-star Shannon Beador's "sexy and hot" husband, David Beador.
That was the most shocking moment during Monday night's reunion show – and Gunvalson dished on another disturbing detail, saying David, who has had marital problems with Shannon, asked her a provocative question about her bra.
It spilled out after David and Heather Dubrow's husband Terry joined their wives and the other OC housewives on the couch with host Andy Cohen.
Article continues below advertisement
Plastic surgeon Terry told David he had "lost two months of sleep" because Terry made sexually inappropriate comments to Heather at their hoedown party. Terry said that Gunvalson had also riled him up by saying David "loves to flirt with me and touch my underwear."
Gunvalson then claimed David "never touched it" — but they had definitely flirted at the Dubrows' hoedown viewers saw earlier in the season.
But Heather reminded Gunvalson, "You told us … David was asking the color of your underwear and your bra."
Gunvalson shrugged, "He said, 'What color bra do you have on?' I'm like, 'I don't know.'"
An ashamed David said, "You were getting dressed at our house before the hoedown."
Gunvalson then got Tamra Barney involved in the controversy, claiming Barney had said David "was hotter than hell."
"He's sexy and he's hot," Gunvalson added, as his wife Shannon shook her head and looked uncomfortable.
Article continues below advertisement
"David is hot!" Barney agreed.
"Maybe I said it once, I'll say it again, David, you're really hot," Barney exclaimed.
"But YOU kept talking about it and talking about it," she told Gunvalson.
Gunvalson insisted she was joking.
Then, with his wife by his side, David admitted, "It was very disrespectful to Shannon and I apologize to Shannon for being so disrespectful because I shouldn't be flirting with Vicki." But he added, "Vicki and I have a nice banter."
Gunvalson explained, "It's very harmless. I'm not going to go make out with David or be disrespectful. He's my girlfriend's husband."
Barney scolded Shannon's husband: "David, you're a flirt."
Gunvalson said, "All he has to do is stand there and he's a flirt. He's sexy."
When Cohen asked if the whole thing bothered her, Shannon softly replied, "It does because it isn't the most respectful thing, no."
As RadarOnline.com readers know, the Beadors' flagging marriage was exposed on the show this season right after they joined the cast. The other housewives gossiped about an email David had sent Shannon implying he might want a divorce.
Article continues below advertisement
David, who also revealed on the reunion show that he's lost a lot of weight, told Cohen about the infamous email that he had had a bad moment and they quickly patched things up: "I love Shannon, I love my kids … I apologized 24 hours later."
Shannon then went off on Barney for betraying her trust by blabbing about the email to Heather -- and also calling Shannon a sad soul.
"You are a sad soul," Barney snapped back.
Barney also commented, "You drink a lot, Shannon."
"Don't talk to me about MY drinking," Beador said, citing Barney's own tipsy ways.
Also on the reunion show, Barney and Gunvalson discussed watching their grown children move away from Orange County.
Barney disclosed that her son Ryan Vieth's wedding to girlfriend Sarah Rodriguez has been postponed because of her pregnancy.
Barney assumes they'll marry after the baby is born but said haltingly, "I haven't gotten word yet."
Article continues below advertisement
According to Barney, Vieth's iron disorder illness might have led him to jump into the quickie romance, telling Cohen, "I think it definitely changes you. When he got diagnosed it put him in a depression.
"Sarah had just lost both her parents and they were both kind of in a weird place. They both had these sad stories and they're united and in love and not thinking about the things that are going on around them."
Gunvalson also was candid about her life, revealing how her marriage to second husband Donn Gunvalson ended with her handing him a big check -- literally.
Although RadarOnline.com readers knew that already, she demonstrated to Cohen how she held on to the check very tightly before letting it go!
"I folded," she sighed. "In the state of California, he was entitled to half my business," she said, relaying that she told him, "'Donn, do you understand how much I'm giving you?' He's living really large right now. He hit the jackpot with me."
Article continues below advertisement
The gang also discussed Gunvalson's controversial boyfriend, Brooks Ayers, who was caught on tape last year (in a story exclusively reported by RadarOnline.com) calling her a "f*cking whore" and threatening to "beat her a**.
He later publicly apologized.
"I don't care if you like him or not," Gunvalson told Barney, who's not a Brooks fan, at the reunion.
Barney shouted at her and Gunvalson finally said, "One time he messed up. We all get a hall pass. If I get hurt I've got one person to blame. It's me."