Exclusive
What Breakup? Vicki Gunvalson & Brooks Ayers Still Dating: 'They Just Can't Quit Each Other,' Says Source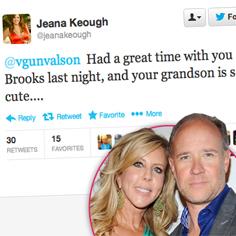 Article continues below advertisement
The so-called split came following the release of RadarOnline.com's bombshell tapes revealing Brooks' darker side, on top of a trying season that saw him frequently clash with Vicki, her castmates, and her daughter, Briana Wolfsmith-Culberson, who was present at the reunion.
During the show Brooks told Briana, "You asked me before, 'Do I love her enough to let her go?' I do."
"So we're not gonna be hearing soon that you guys are back together?" Brianna asked Brooks, who was emphatic in saying, "Not from me, not from me — and that's the truth."
But it's not the truth, because according to a source close to the couple, they are very-much still dating.
"Vicki is still with Brooks. She just can't quit him," the insider told RadarOnline.com.
"It's sort of complicated, but despite everything out there proving what a monster he can be, she still doesn't believe anything bad about him."
Another source tells RadarOnline.com the relationship between the two is toxic.
"They are the most dysfunctional couple you could ever imagine," the insider revealed.