Exclusive
Real Hitman Of Orange County? Brooks Ayers Accused Of Hiring Assassin To Kill Vicki Gunvalson's Former Business Partner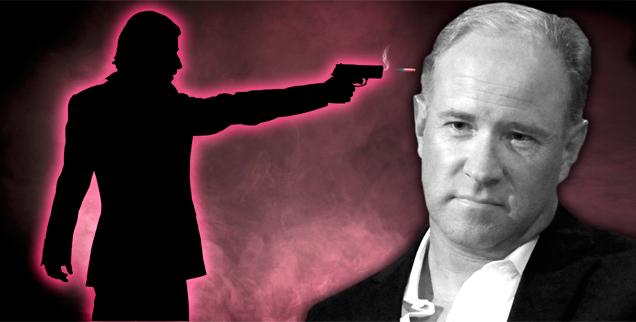 Real Housewives of Orange County star Vicki Gunvalson and her besieged boyfriend Brooks Ayers have become embroiled in a sleazy murder-for-hire plot, sensational court papers filed in Las Vegas charge.
Ayers -- the Bravolebrity's on-again, off-again lover -- has filed a slander and defamation lawsuit against Gunvalson's ex-business partner, who he claims went public with false allegations that he'd uncovered evidence detailing how Ayers planned to have him killed.
Article continues below advertisement
This is how the outrageous drama supposedly went down:
That business associate, Robert Williamson III, who appeared on an episode of RHOOC this season, pressured Gunvalson into attending a hush-hush meeting at the Bellagio Hotel in Las Vegas in early March when she was in town for Ayers' birthday, according to the lawsuit.
Surrounded by "bodyguards," Williamson, his wife, Cate and another associate began to air very disturbing claims against Ayers, 46, the lawsuit filed in the United States District Court in Nevada alleged.
Most shockingly, according to the complaint, they alleged that Ayers was a "dangerous guy who has threatened Plaintiff (Williamson) and his wife's life" and that he "hired a hit man to kill plaintiff."
According to the suit, they also claimed Ayers got the paralegal from his divorce attorney in Mississippi pregnant causing her to lose her job, he conspired with another person to extort money from Williamson and that Ayers had "many" sexual diseases. Ayers denied all the allegations.
Article continues below advertisement
Gunvalson, 51, believed the claims at first, it's claimed, even sending her lover a message telling him to "lose her number."
But she soon suspected the accusations were unsubstantiated and the pair got back together, Ayers said in his suit.
Now, as a result of the brouhaha, Ayers is suing for damages, claiming that he "was publicly vilified and humiliated and has suffered substantial damages in the form of pain, suffering, anguish and lost business opportunities" because of the alleged wild accusations.
In fact, text messages included in the court paperwork appear to show that another woman, Angela Torres, confided in Ayers she was afraid for her own life just days after Williamson allegedly told Gunvalson that Ayers was "a dangerous guy'!
"OMG what is going on Brooks! We need to talk PLEASE," Torres supposedly texted Ayers on March 31. "Sorry I'm just really scared for my life."
On April 1, according to the lawsuit, she wrote: "I called him on his own bluff!!! He's not going to contact me. He's nothing but a liar! Just like he proposed to me and promised he would leave Cate by March!"
Article continues below advertisement
On April 9, the messages show that Ayers allegedly called Torres' attention back to the alleged lies Williamson had told Gunvalson.
"The BIG deal is that Robert has implicated me/you in a plan to extort/blackmail and/or have him killed," he wrote, according to a text message filed with the lawsuit. "Pretty serious and I'm not taking it lightly."
Torres allegedly answered, "Well it's obvious that its not true … I guess I'm just confused on everything. Sorry."
According to the suit, Ayers replied: "Well, he provided a supposed text from your phone that came from me. We'll find out the facts. … So you're telling me that you never insinuated to Robert that I was contacting you via text that I was encouraging you to extort money from him or we'd have him killed?"
"No," she answered, it's claimed. "I told Rob that I felt like he was going to hurt ME!"
Williamson is already suing Ayers, claiming he committed fraud, breached contract, failed to live up to good faith dealings, misrepresented himself and conspired with Gunvalson to unjustly enrich themselves while working with him to launch her vodka, Vicki's Vodka.
He is also planning to refile his own lawsuit against the reality star herself, after settlement talks collapsed.