Brooks Ayers Under Fire From EVERYONE (Except Vicki Gunvalson) On RHOC Reunion Episode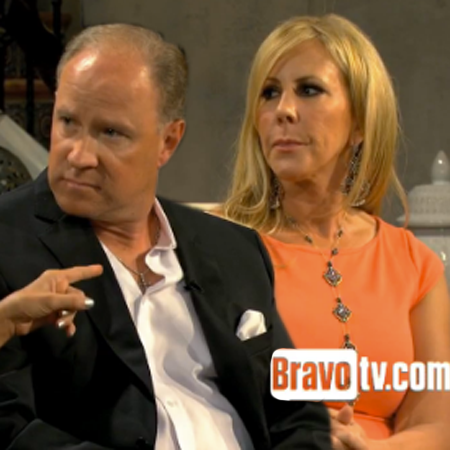 Article continues below advertisement
Tamra Barney said she's seen a "weak, weak Vicki" since she's been with Brooks, to which Vicki meekly responded, "I have remorse over where my life is at right now at 51."
Heather DuBrow, trying to be diplomatic, insinuated that all of the personal relationships of Vicki's that have suffered under the yoke of her relationship with Brooks.
"Maybe this isn't the right guy for you," she reasoned.
And of course, Vicki's daughter Briana Wolfsmith-Culberson was outspoken in criticizing her mother's relationship with Brooks, saying that he's "the only source of ick" in her life.
Briana told her conflicted mom that she's exhausted all options, and that "if you wanna be with someone that treats you like that … I can't do anything about it anymore."
As we previously reported, Brooks image probably won't be helped by our exclusive bombshell audio on RadarOnline.com, as he's heard calling Vicki a "f*cking whore" and threatening to "beat her ass," as well as bragging that he's free with his hands "because … that's what we do in the South."
Watch the video on RadarOnline.com
Part three of the Real Housewives of Orange County reunion airs on Bravo Monday at 8/7c.