Vicki Gunvalson & Brooks Ayers: 'We're Still Dating … But Things Need To Change'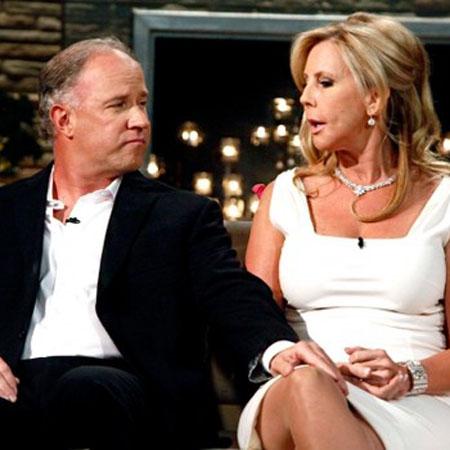 Article continues below advertisement
In an off-camera interview, Vicki reasoned that since her beau "had no reason to lie …. Lauri has lied again."
Vicki and Brooks then got into a minor tiff centered around Vicki's daughter Briana Wolfsmith-Culberson -- an outspoken critic of Brooks, who's since moved in with her marine hubby Ryan -- paving the way for Vicki to invite Brooks back into her home.
"I'm not going to wait around to get someone's grown daughter to grant me the ability to see you," Brooks told Vicki. "The stuff in your life with Brianna is tearing us apart, and it's not my fault."
Vicki shot back, "So are we dating or not dating?" to which Brooks responded, "We're still dating: we have great chemistry… but there are going to be things that need to change."
"I'm at the same place," Vicki said.
In her post-show appearance on Watch What Happens Live, Vicki's (sometimes) friend Tamra Barney made it clear she's not a big fan of Vicki's beau, though didn't go into great detail about it. She described the events at the recent reunion show as "tragic, epic and probably the most intense" show in the series.
Article continues below advertisement
Tamra said she thinks of Vicki "like her sister" and said they "have a bond" after spending years on the show together.
"Do I agree with everything Vicki does?" Tamra asked, rhetorically. "No, but it doesn't influence me and how I treat the other women."
As we previously reported, Vicki told us exclusively she and Brooks are no longer a couple, telling us her "love tank is empty."
Watch the video on RadarOnline.com
The Real Housewives of Orange County airs on Bravo Monday at 9/8c.