Vicki Gunvalson's Boyfriend Brooks Ayers Denies Cheating On 'RHOC' Star With Porn Star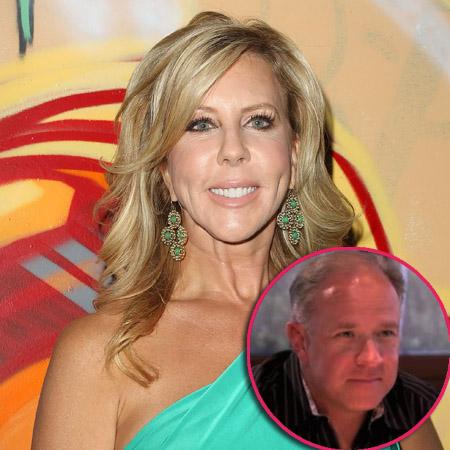 Article continues below advertisement
At a salsa party thrown by Lydia McLauglin, Lauri and Tamra gossiped about Brooks, who began dating Vicki in 2011 in the wake of her divorce.
"I didn't know they were still together," Lauri said.
"He's out on the town," Tamra responded. "Big time, whatever you've heard I've heard."
At that point, Lauri revealed Brooks had been seeing a "stripper slash porn star" in addition to courting Vicki, 51.
"One of our daughters came to me and said Brooks was dating one of her friends," Lauri said. "This friend of my daughter's, she gets paid to do some very questionable activities."
Charged Tamra: "I've known there was something you just can¹t trust about this guy and now, to hear he's out with young girls? I really feel sorry for Vicki."
The scene prompted a barrage of Tweets toward Brooks from housewives fans, with one questioning how long it would be before Brooks moved into Vicki's home now that her daughter's husband Ryan had left to serve in Afghanistan.
"Nope, no plans for that," Brooks responded.
Article continues below advertisement
He also retweeted one missive which said -- "I read that Lauri is willing to say anything so she is relevant again and asked to be on the show!" -- and addressed the lawsuit filed against him and Vicki surrounding the "Vicki's Vodka"company.
An ex-business partner has filed suit, accusing them of stiffing him to the tune of at least $250,000.
Poker player Robert Williamson III alleged the pair breached contract, committed fraud, failed to live up to good faith dealings, misrepresented herself and conspired to unjustly enrich herself and Brooks.
"I heard that Brooks lives off Vicki's money, gave him part of her company to pay his taxes & child support," one fan tweeted at him.
Brooks responded: "You obviously heard wrong and are very misinformedŠ You have no clue about the facts lady. A mature person knows that their are two sides to every story!"
On a brighter note, he also seemingly confirmed he and Vicki are still dating, despite their tempestuous relationship, confirming that he attended the "beautiful" wedding of Tamra and husband, Eddie Judge, at the weekend in Laguna Beach, Calif.