Exclusive
OC Housewife Vicki Gunvalson Thwarted Use Of Her Likeness On Vodka Product In Weeks Before Lawsuit Was Filed — Read The Email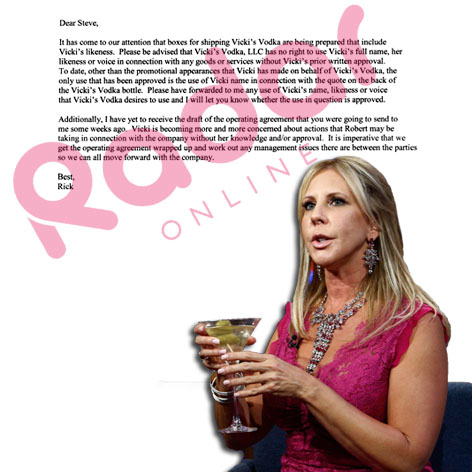 Vicki Gunvalson had her lawyer send a cease and desist letter to her "Vicki's Vodka" business partner four weeks before he filed a lawsuit against the Real Housewife of Orange County star, in which she ordered him not to use her likeness on the product they were producing.
In the email from the reality star's Los Angeles-based lawyer Richard P. Brull on May 10 to a lawyer for Robert Williamson III, a professional poker player whom she went into business with in 2012, "management issues" between the pair were laid bare.
Article continues below advertisement
"Vicki is becoming more and more concerned about actions that Robert may be taking in connection with the company without her knowledge and/or approval," Brull wrote.
As RadarOnline.com exclusively reported, Williamson filed a significant lawsuit against Gunvalson and her boyfriend, Brooks Ayers , on June 7, alleging the couple breached contract, committed fraud, failed to live up to good faith dealings, misrepresented and conspired to unjustly enrich themselves.
It's claimed the pair orchestrated for Ayers to be gifted 16.67 percent of the business "Vicki's Vodka" without the knowledge of Williamson, then have it sold back to him for $50,000.00 under the guise that Ayers, her boyfriend since 2011, needed it "for unpaid IRS and child support obligations in order to prevent his imminently going to jail for non-payment."
However, according to Williamson's lawsuit, "it was learned later that Brooks and Vicki had used this purchase as a way to obtain additional money from RW III Williamson in bad faith."
Article continues below advertisement
In the email at the center of the case, filed in a Las Vegas court and obtained by Radar, Gunvalson's lawyer warned Williamson against the use of promotional material involving the 51-year-old Bravo star.
"It has come to our attention that boxes for shipping Vicki's Vodka are being prepared that include Vicki's likeness," the attorney said.
"Please be advised that Vicki's Vodka, LLC has no right to use Vicki's full name, her likeness or voice in connection with any goods or services without Vicki's prior written approval.
"To date, other than the promotional appearances that Vicki has made on behalf of Vicki's Vodka, the only use that has been approved is the use of Vicki's name in connection with the quote on the back of the Vicki's Vodka bottle. Please have forwarded to me any use of Vicki's name, likeness or voice that Vicki's Vodka desires to use and I will let you know whether the use in question is approved."
Here is the email:
Article continues below advertisement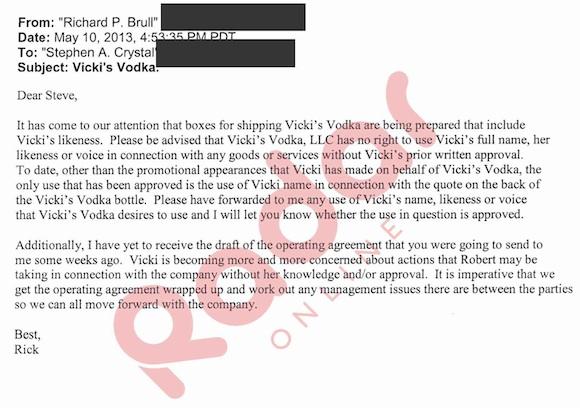 Williamson, in the lawsuit, alleged the email proves that Gunvalson had a "total lack of co-operation" to make the business a success.
In a statement issued via Facebook on Monday, the reality star spoke out for the first time about the claim.
"My attorney will be filing a response to the frivolous suit within the next day or so," she said. "This response will reveal my side of the story and the lack of truth that was told. There will be more details to follow shortly. Thank you for your support. The truth always prevails."
Williamson is seeking hundreds of thousands of dollars in damages, interest and attorneys fees.