Is It Over? Brooks Ayers Slams Vicki Gunvalson, She Responds 'My Checkbook Is Guarded, My Heart Is Guarded'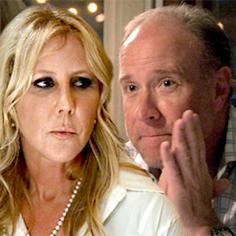 Could The Real Housewives of Orange County star Vicki Gunvalson finally put an end to her troubled relationship with her boyfriend, Brooks Ayers? It seems so.
"I know a lot of you have voiced your opinion on Brooks and although I appreciate your opinion, keep in mind I am a smart woman and I know him more (other than his family) than most of you," Vicki wrote in her June 26 Bravo blog. "I don't read the comments people post on the blogs because I have seen the level of anger and meanness there."
Article continues below advertisement
Vicki continued, "I have learned a lot about relationships in my lifetime and what I do know is my checkbook is guarded, my heart is guarded, my mind is guarded and it's going to be a very long time before I am walking down that aisle again (if ever)."
There has been a lot of trouble in their romance: In addition to rumors of infidelity, RadarOnline.com revealed that Vicki, 51, recently got served with a lawsuit that accused her and Brooks of fraud over their failed Vicki's Vodka business.
RadarOnline.com also obtained exclusive footage of Vicki getting served with papers when she was in Las Vegas on June 25.
The day after Vicki was served, Brooks took to Twitter and fueled the breakup speculation even more.
"@vgunvalson My heart is very heavy because of you. The world doesn't revolve around you alone, especially when you're in a relationship," Brooks tweeted https://twitter.com/BrooksAyers at Vicki on Jun 26. "@vgunvalson I should've known that you'd betray us for you. I did the opposite."
Vicki has yet to respond to Brooks' tweets.