Puerto Vallarta No Paradise! 'RHOC' Star Shannon Beador Tells Husband David, 'I Don't Believe That You Love Me' During Their Mexico Vacation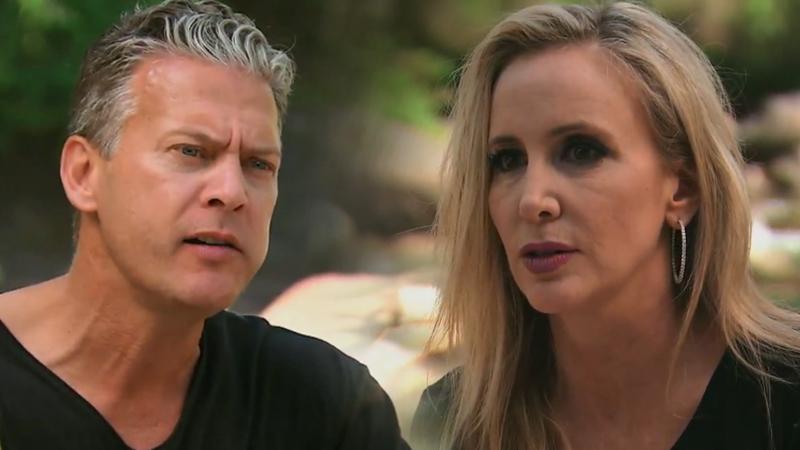 Article continues below advertisement
So after the couple had a spat over dinner, the "woo hoo" queen led them to a bar where everyone got drunk and Gunvalson and Shannon danced on top of the bar.
Later, Gunvalson arranged a romantic lunch in which the Beadors could spend time alone.
However, while eating by the river in Mexico, they discussed their troubled marriage — and it wasn't pretty.
"I feel like I've been in a bit of a slump," Beador told David.
She brought up how he thought she was sniping at him about his love for tequila at dinner the night before.
David said he felt she didn't like him drinking tequila, and declared, "You shouldn't tell me what I can and can't drink."
A flashback showed Beador's uneasiness when her husband downed too much tequila, and she told him, "I don't recognize who you are. I feel like you're slipping away. "
David said he was tired of his wife's attitude, saying, "I think we live an amazing life. I want to be f*cking happy. We don't have that."
Article continues below advertisement
Shannon got tearful and as usual, mentioned they don't spend enough time together: "You don't sleep in the same room with me. I don't believe that you love me. I don't."
She also confronted her husband: "It sounds to me like you want to get a divorce right now."
While David denied that, he also told Shannon he didn't think she was happy with herself and it was ruining their relationship.
"I can't live this way anymore," he said. "I do love you. The question is, 'Can I make you happy?'"
Shannon said he already did, but David wondered.
"We've been on a bad downward spiral. I don't think we put a lot of work into our relationship," he said.
She said, "What do we do?"
David told her they had to forgive each other.
While the businessman was vague on solutions to their marital crisis, he told Beador, "We have a lot of healing to do," while the housewife sighed to the cameras that it had been one of the worst days of her life.
Article continues below advertisement
In another Monday plotline, Tamra Barney and her husband Eddie Judge continued to wrestle with their robot baby, Astro. Barney got the faux infant to encourage Judge to become a dad, but it didn't work.
In fact, the move had mother of four Barney, who has been fighting a custody battle with her ex-husband, Simon Barney, admitting she might be too old to have another child.
And Judge said after the experience, "I definitely know I don't want a kid."
While Barney once again tearfully told the cameras that it was a dream to have a baby with Judge and they'd discussed it when they were dating, she also admitted, "You can't force somebody to do something they don't want to do."
Watch the video on RadarOnline.com:
Also on the Judge front, Barney's son Ryan Vieth was told to plan their one-year CUT Fitness anniversary but he told the couple they needed to replace the gym's floors. Barney told the cameras Judge had earlier made a $30,000 mistake, so they ended up with faulty gym floors.
Article continues below advertisement
Vieth said the floors were "crap," and had affected selling gym memberships, a comment that made Judge visibly angry.
Barney said it brought back bad memories of Vieth not getting along with her previous husband, Simon.
At the end of the episode, Barney visited Gunvalson at her insurance office and they delved into the conflict between Barney and Beador, which resulted after Tamra tattled to Dubrow about Beador's failing marriage. Heather Dubrow then shocked them both by gossiping about the marriage with other Orange County women.
Watch the video on RadarOnline.com:
"I will never tell Heather anything again. I feel like a big a**hole!" Barney told Gunvalson.