Real Nagwife! Shannon Beador Complains To Husband She Feels Neglected: 'I'm Like At The Bottom Of The Bottom Of The Bottom!'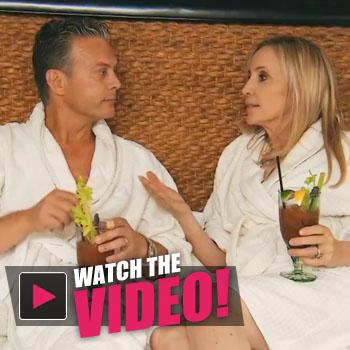 In the next episode of The Real Housewives of Orange County, new cast member Shannon Beador and her husband David Beador take a vacation to the St. Regis Monarch Beach in Dana Point, CA.
But what was supposed to be a relaxing time for the couple to unwind quickly turned into Shannon ragging on her husband about not paying enough attention to her.
"It's nice to have some alone time so that we feel a connection," Shannon told her husband.
Article continues below advertisement
But David was quick to get defensive.
"I took you to the Montage one time..." he reminded her.
That didn't suffice for Shannon though.
Faked Scenes, Lies & Payoffs – The Ultimate Guide To Reality TV Shows
"You took me away to go watch the football game, so you and I weren't spending all this quality time because you were going to do it anyway," she said. "So I'll just throw Shannon in there and then it will look like we're really spending time alone together. Do you know what I mean?"
Shannon added to the cameras, 'Hello! I'm sitting right here. Where do I fit on the totem poll? There's your kids, there's the work, and Shannon is where? I'm like at the bottom of the bottom of the bottom."
Shannon concluded her nagging by telling David she wanted a confirmation that everything was okay between them.
"It's just been important to me to just to know that there's nothing else going on," she said. "It's just you and I."