Heather Dubrow Kicks Shannon Beador Out Of Her House — After Tamra Barney Betrayal — On Drama-Packed 'RHOC'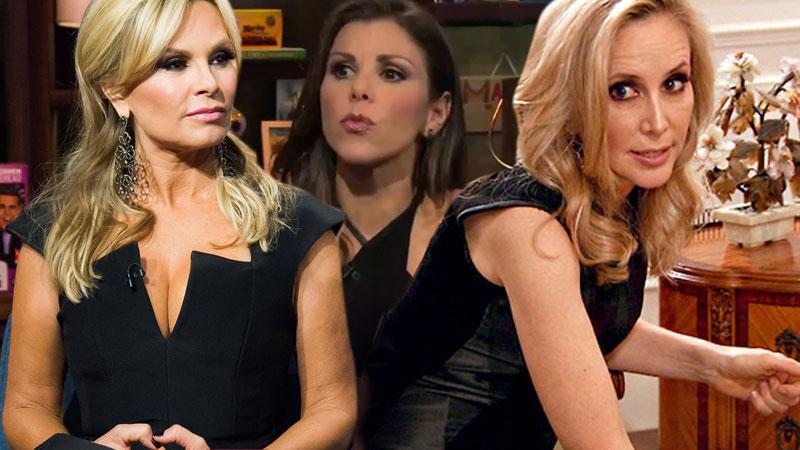 Article continues below advertisement
As the episode began, viewers saw Beador get a text from David that said Dubrow was discussing with a tableful of women the fact that that David had emailed Beador wanting a divorce.
Although Barney had clearly discussed the Beador marriage with Dubrow the previous week, she claimed to Shannon, "I did not say anything."
Soon, however, Beador — who had already patched things up with her husband — charged over to Dubrow's home seeking to confirm Barney's betrayal.
Beador wondered how Dubrow knew about an email her husband had sent.
"I need to find out how it got out to the world," Beador said.
But Dubrow changed the subject, saying she thought Beador was there to apologize for previously yelling at her during a party.
After they hashed that out, Beador asked Dubrow again about Barney. Dubrow admitted that Barney had told her, "You remind her of her four years ago. Her marriage was falling apart and she was drinking too much."
Article continues below advertisement
Beador was stunned: "I'm drinking too much?" the vodka enthusiast asked the cameras.
"You have told some people about my marriage," Beador then huffed to Dubrow.
She stood up and said, "I'm done. It's hurtful to my kids. I was told you were spreading the rumor."
Dubrow said, "It's weird for me that you're asking these questions — I'm done with this, thanks for stopping by, please leave!"
A distraught Beador wobbled out of the Dubrow house and then Heather sighed to her husband Terry, "I'm sorry that she's in pain but it's not my fault."
At the end of the episode, it was a tale of two separate stories as Barney met with Beador while Dubrow had dinner with her husband and Lizzie Rosvek.
Barney 'fessed up to Beador that her loose lips resulted in the gossip, admitting, "I feel horrible that I said something to Heather. I'm not going to lie to you. I said to her, 'Can you lay off Shannon?' Then she said, 'What's going on?'"
Watch the video on RadarOnline.com:
Article continues below advertisement
As viewers had already seen, Barney then told Dubrow about Beador's marital woes.
Beador told Barney, "I'm disappointed — I feel betrayed."
But still smarting about Dubrow ordering her to leave her home, Beador also told Barney that Heather was just as bad: "There's no word to describe it, but cruel."
She gave Barney credit for owning up to her lie, but told Bravo cameras she couldn't trust her anymore.
Dubrow then told Rosvek her side of the story — that she had in fact gone to lunch with a group of friends and mentioned Beador's marriage trouble, but it was only for a minute.
On Monday's RHOC, fans also saw Vicki Gunvalson taking a vacation to Puerto Vallarta with her boyfriend Brooks Ayers and expecting the Beadors to soon join them.
Also, Barney and her husband Eddie got a delivery of a baby robot as a trial run on possibly having their own baby.
Article continues below advertisement
"I think he needs a little push to show him what he's missing," Barney commented about Eddie while taking charge of the baby "boy," complete with plastic private parts; Eddie named the faux infant "Astro" and the two were going to compete to see who would be the better parent.
Although she's going through a messy custody battle, Barney was sure she would win because she's had four kids — but the robot stopped crying as soon as Eddie picked it up.
The Real Housewives of Orange County airs Mondays on Bravo at 9/8c.