No Spinoff For Tamra Barney Judge! Andy Cohen Denies The Scandal Plagued 'RHOC' Star Is Getting Her Own Show Next Year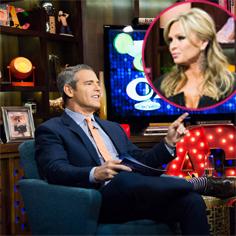 Article continues below advertisement
While Cohen didn't comment further on Judge, he did elaborate on how he and the other housewives' producers decide who gets a spinoff, saying, "Someone needs to be going through a serious life transition that will kind of take them out of it. They have to be able to hold their own for an hour — or a half hour. It's a lot of time."
Cohen said a housewives' spinoff is a lot of pressure, but admitted Bravo stars were begging him for the chance for their own spotlight all the time!
"A lot of housewives — almost all have asked me for spinoffs and I always say, 'You should be so happy to be on this ensemble show. You get paid so well. You all can kind of fall back on each other or rely on each other,'" he said.
While blonde CUT fitness maven Judge, 46, is in the midst of a huge life scandal, it might be too hot for Bravo to handle.
As RadarOnline.com has exclusively reported, bombshell court documents have showed Judge's former husband, Simon Barney, is trying to change their custody arrangement, claiming Judge has neglected their three kids.
Article continues below advertisement
Barney has staunchly denied his charges while daughter Sidney, 15, said in court papers that the RHOC star was emotionally abusive.
But it doesn't look like Judge, who married third husband Eddie Judge in a three-part RHOC special called Tamra's OC Wedding last year, will star in her own spinoff again anytime soon.
Cohen noted on @skAndy, "We haven't done that many spinoffs." But then he admitted, "I mean Real Housewives of Atlanta we've done a bunch, so I'm kind of contradicting myself."