Exclusive
'RHOC' Marriage In Crisis! Heather Dubrow's Hubby Terry Threatens To Walk Out After She Humiliated Him On Show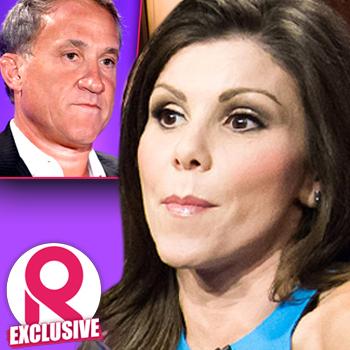 Could Heather Dubrow be the latest Real Housewife turned divorcee? has exclusively learned that the Real Housewives of Orange County star has been sparring with her husband Terry. And according to multiple sources, he recently told her to shape up, or he's shipping out!
The drama started thanks to tensions with Heather's co-stars, according to one insider. "For whatever reason, there has been discord this year and Heather seems to be in the middle of it all," an insider explains. "There's always one woman in the middle each year and this year it's Heather's turn."
Article continues below advertisement
Already stressed at work in front of the cameras, she hasn't found much solace at home.
"The Dubrows are constructing a huge, gorgeous Italian Villa on the hilltop overlooking the Pacific Ocean in Crystal Cove, and that's a massive undertaking," said an Orange County pal. "It requires a lot of patience. … With Terry working, Heather has taken on the bulk of the home-building issues and it's tiring."
"Heather tells Terry it's not the most equitable situation," having to run the house while he runs his plastic surgery practice, said the source. "And with her strained relationships with the other women on the show, she's not in a position to ask for help from them, nor would she take it anyway. She would never expect Tamra Barney Judge to babysit her daughter Coco."
Consequently, "Heather's attitude is growing…" said the source. "This year she's creating the drama…." And sometimes, she takes it out on Terry.
Article continues below advertisement
In one memorable incident, the couple's tensions exploded on camera when Heather refused to allow her husband to have onion rings during a cast meal.
"Look at the 'Battle of the Onion Rings,'" said the friend. "I mean it started out with Terry simply asking for some onion rings with his lobster dinner and Heather refused to give in. But after seeing how dumb the argument looked on camera, and seeing how truly annoyed Terry was about why he can't have a lousy onion ring, she finally caved and told the viewers that Terry will get onion rings whenever he wants."
For Terry, however, it may not be enough. According to another insider, he's suggested taking a breather from their tense home life and hitting the road with a heavy metal band!
Terry told the world on this week's episode of RHOC that his late brother, Kevin, was the founding member of the well-known heavy metal group "Quiet Riot," which was popular in the late 1970s and 1980s. Terry is still friends with the band, especially veteran drummer Frankie Banali.
Article continues below advertisement
And according to a source, Terry told Heather a summer stint as a roadie might do him good.
"After last week's tumultuous episode, which was filmed during the holidays, Terry has done a lot of soul-searching," the source said. "He's been looking back on the carefree days. Those days included going backstage and visiting with his brother and their friends" after shows.
"Terry's brother Kevin founded the band and while Terry was always studying in pursuit of his medical degrees, Kevin was on stage singing and playing to thousands of adoring young fans," said the friend. "When Terry had a break from studying he would hang out backstage with his brother and the guys."
According to the source, Terry sometimes doubts his decision to go into medicine and craves a taste of life on the road – especially when the tension around RHOC and his wife builds up.
Says the source, "Terry thinks hanging out with Frankie and the guys could do him some good!"