Tamra Barney Is Calling Bull On Heather Dubrow! Vows To Confront Frenemy At 'RHOC' Reunion After Getting Tossed Off Mechanical Beast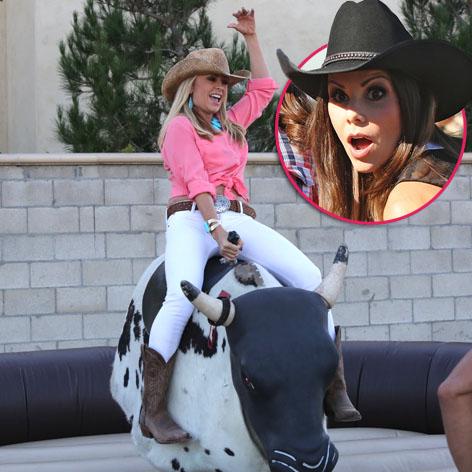 Article continues below advertisement
"I had no idea Heather told the bull operator to 'turn it up' until I saw the footage," Barney told All Things Real Housewives website in an new interview.
Viewers saw Dubrow acting concerned by the fall, asking Barney if she was "ok" but Barney was clearly oblivious to the intentional move.
"What shocked me the most was to hear her say 'he should be fired for turning it up.' Say what?" Barney told the site.
Clearly torn by the move by her frenemy made, Barney said she hasn't quite decided how to react.
"I'm still absorbing this info and quite frankly I have mixed emotions. Heather has text me to say she is sorry and she was just kidding."
But she may be plotting to stage a Real Housewives of Atlanta style brawl!
"I guess we will deal with it at the reunion," she admitted, but then seemed to pay Dubrow a compliment, saying: "She's still my fancy pants."