Exclusive
It's Getting Ugly! Monster Mom Tamra Barney & Ex-Husband Simon Ordered To Mediation In Attempt To Settle Explosive Custody Dispute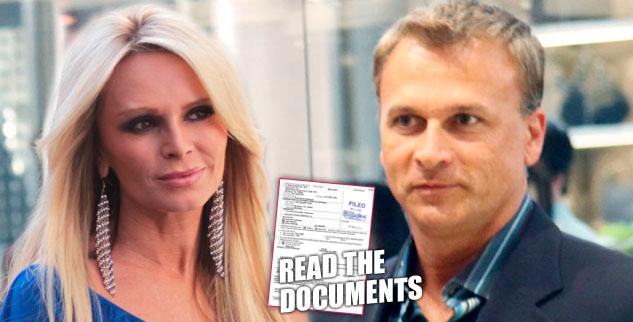 The bitter custody dispute between Real Housewives of Orange County star Tamra Barney, and her ex-husband, Simon is about to get even messier: RadarOnline.com has exclusively learned that a judge has ordered the pair to a court-appointed mediation meeting in an attempt to hash out their issues.
As Radar was first to exclusively report, Simon filed bombshell court documents against Tamra last month seeking sole custody of their three children, citing child neglect on the part of the reality TV star.
Article continues below advertisement
"Respondent, especially, in recent times, has been very neglectful in her care for the children," the docs read. "This has resulted in the children not getting prompt medical care, nutritional meals, hygienic care, and deterioration in their school work and attendance."
Now, according to new documents obtained by Radar, "The Court orders both parties to be personally present to attend a mandatory mediation regarding any disputed custody/and or visitation issues. You are ordered to meet with a court mediator on June 10, 2014 at 9:45 am...Parents are advised are not to be present for the mediation session unless ordered by the Court or requested by the Court mediator."
The initial filing has spiraled into an all out war between Tamra and Simon, with their 15-year-old daughter, Sidney, publicly voicing her support for her father and alleging her mother is "verbally and emotionally abusive." Tamra also has a daughter, Sophia, 8, and son Spencer, 13, with Simon.
For her part, Tamra has said she's "devastated" over the allegations made by Simon in the March 28 filing, insisting, "He is a disgusting human being!"
Scorned Exes Tell All: Inside Hollywood's Ugliest Splits
The legal docs also reveal Tamra, 46, doesn't want to pay Simon's $10k legal fees, stating such a move would be "excessive."
A hearing is scheduled for June 25, at which time the judge will rule on Simon's request for attorney's fees, and if a deal isn't worked out, the case will be set for trial.
Story developing.