Apology Not Accepted! Lizzie Rovsek Takes A Thinly Veiled Dig At Tamra Barney Judge After She Broadcasts Her Telephone Number To The World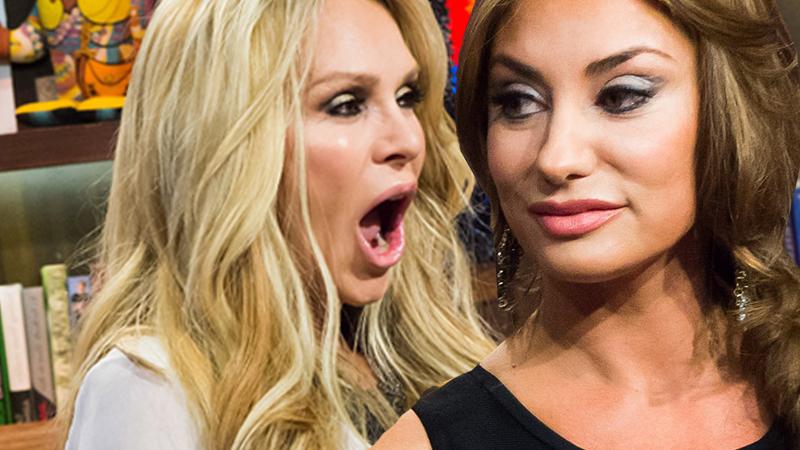 Words are cheap, at least to Lizzie Rovsek. The Real Housewives of Orange County reality star refuses to accept costar Tamra Barney Judge's apology for broadcasting her telephone number to the world.
"I feel horrible and very sorry that it happened," Judge, 46, said in a new interview about the fiasco. "I even tried to call her immediately to let her know."
Judge made her phone faux pas when she tried to defend herself after a recent episode in which Rovsek, 34, was irritated that she skipped out on her birthday party at the last minute because her daughter wasn't feeling well.
Article continues below advertisement
When Judge took to social media to share a text that proved Rovsek was just creating drama, she accidentally included her costar's digits.
"It was never my intention to expose Lizzie's phone number and it was deleted in seconds after I realized her number was attached," explains Judge. "I had deleted Lizzie number after the reunion. Therefore her previous text messages came up by her phone number."
Whatever the case, Rovsek isn't having it. The RHOC diva says she got so many calls and texts after the post went up that she had to have her number changed.
To further display her displeasure, Rovsek posted a Margaret Mitchell quote on Facebook: "The liar was the hottest to defend his veracity, the coward his courage, the ill-bred his gentlemanliness, and the cad his honour."
All the behind-the-scenes drama won't matter for much longer. As Radaronline.com exclusively reported, Judge will not be returning for the next season of The Real Housewives of Orange County, and an insider now reveals that newcomer Rovsek is also being axed — for being completely bland.
Snipes the source, "Lizzie just didn't bring anything to the show and was super boring."
Whose side are you on? Let us know in the comments!