Fess Up! Joan Rivers' Shady Doc Caught On Camera Refusing To Admit To Taking Sick Selfie While Comic Was Under Anesthesia — WATCH The Bombshell Video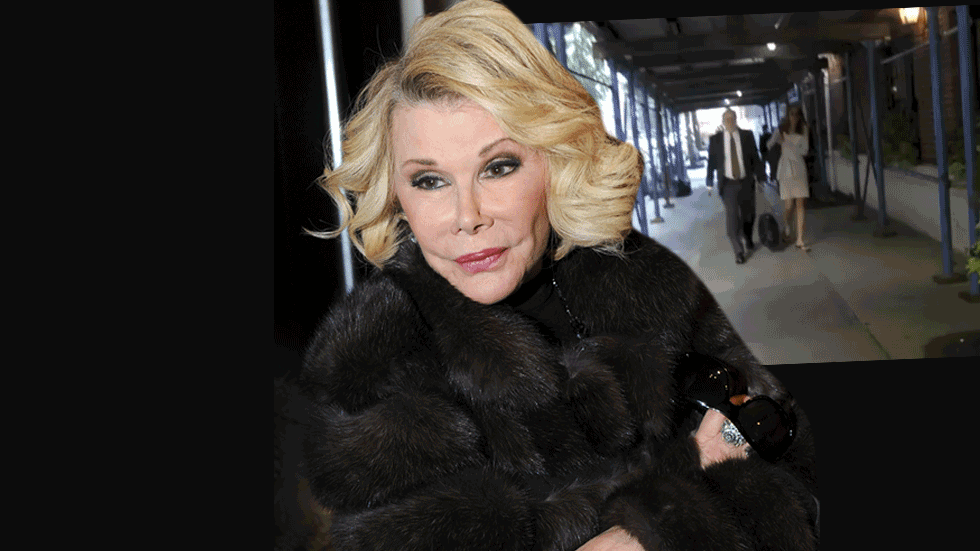 Gwen Korovin, the doctor engulfed in the controversy of Joan Rivers' death, won't fess up to her allegedly shady practices — at least not in public. The selfie-taking specialist was caught on camera Thursday refusing to answer questions about her alleged unauthorized biopsy and sick selfie, and RadarOnline.com has the disturbing video.
Korovin refused to answer any questions about the allegations regarding the botched procedure leading up to Rivers' death as she was caught by cameras on her way to work on Thursday in NYC. She even had an entourage protecting her from the gathering crowd of angry bystanders.
Article continues below advertisement
When pressed, Korovin wouldn't own up to taking the selfie with an unconscious Rivers in the operating room just before the 81-year-old stopped breathing.
A colleague even tried blocking her from the cameras as she entered the posh office on New York's Upper East Side.
Korovin also refused to answer the phones in her office and has been in hiding ever since news of her involvement, leading those around Rivers to call her "a spineless monster," according to a source.
As RadarOnline.com previously reported, the staff at Yorkville Endoscopy told investigators the ear, nose and throat doctor snapped a selfie with her cell phone while Rivers was in the operating room. Sources said the Fashion Police host was in the shot with Korovin, lying unconscious on the table.
"Joan was under anesthesia at this point. Everyone in the operating room was just stunned as they had never witnessed anyone do that before," an insider said.
Article continues below advertisement
"They will certainly be asking what the purpose of taking the selfie was for, and they will want to see it," a source said.
Meanwhile, Melissa told close friends that she will be filing complaints against Dr. Korovin as well as Dr. Lawrence Cohen, who performed the endoscopy on Rivers, and will demand their licenses be revoked.
"Melissa is taking this very seriously," a source said. "Filing a medical board complaint against Dr. Lawrence Cohen and Dr. Korovin will give Melissa the power to make sure she gets answers."
Dr. Cohen, who was Yorkville Endoscopy's medical director before bailing on the clinic "is not currently performing procedures…nor is he currently serving as medical director."​
WATCH the video of Korovin trying to dodge bystanders questioning her actions in the moments before the iconic comedian's death.