They 'Meant The World' To Her: Joan Rivers Left Money For The Care Of Her 4 Dogs, While Daughter Melissa Thanks Close Ones & Public For Ongoing 'Kindness And Support'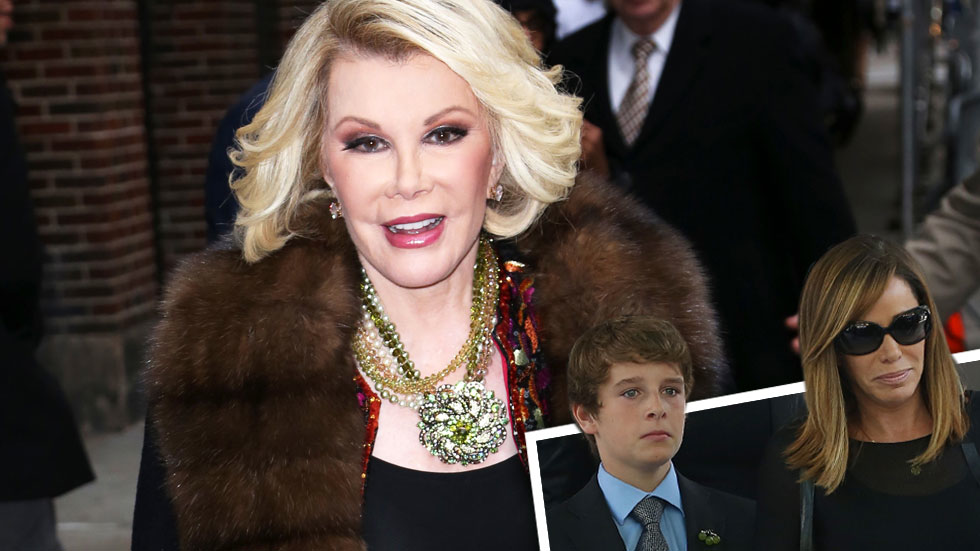 As Melissa Rivers thanked friends and fans for the outpouring of compassion she said her late mother Joan Rivers would have been "overwhelmed" by following the comic's death earlier this month, RadarOnline.com has learned new details about how the late Fashion Police star earmarked her $150 million in wealth to her daughter, grandson and toward the care of her four dogs.
A family insider told the NY Daily News that the comedy icon "wanted to make sure that if anything happened to her that they would be taken care of."
Article continues below advertisement
The dogs "meant the world to Rivers," and she considered them members of the family, the insider said, adding that the late comedienne's assistant Jocelyn Pickett will care for the animals moving forward.
Rivers gushed about her canines, once calling herself "the Angelina Jolie of barkers," and boasting that she'd "let them sit on $300-per-yard French fabric" because she loved them so much.
The friend said that Melissa has already made moves toward the sale of two Fifth Ave. luxury apartments Joan owned in the same Manhattan building, in part, because it's "too painful" with the multiple reminders of her late mother.
"Melissa is a West Coast girl and Cooper is in school in L.A., while her mom was East Coast-based," the insider said. "Additionally, Melissa is planning to sell Joan's amazing home in Connecticut."
Melissa Wednesday said via her WhoSay account that Joan would have been "overwhelmed by the scope and depth of the love that people have expressed for her," and that "it is certainly helping to lift our spirits during this time.
Article continues below advertisement
"As my son Cooper and I mourn the loss of my mother, we want to thank everyone for the beautiful cards and flowers conveying heartfelt messages and condolences, which continue to arrive from around the world and through social media."
She said, "We are forever grateful for your kindness and support in continuing to honor my mother's legacy, and for remembering the joy and laughter that she brought to so many."
As RadarOnline.com previously reported, Rivers died Sept. 4 at Mount Sinai Hospital, a week after she fell ill during the initial Aug. 28 endoscopy on her vocal cords, in which a previously-unplanned biopsy was performed. She was remembered with a star-studded funeral in New York.