Exclusive
Hiding From Colombian Cocaine Dealers, Blowing $2,000 A Week On Drugs, Planning Sleazy Hooker Parties: Inside TV Anchor Pat O'Brien's Shocking Drug & Alcohol Addiction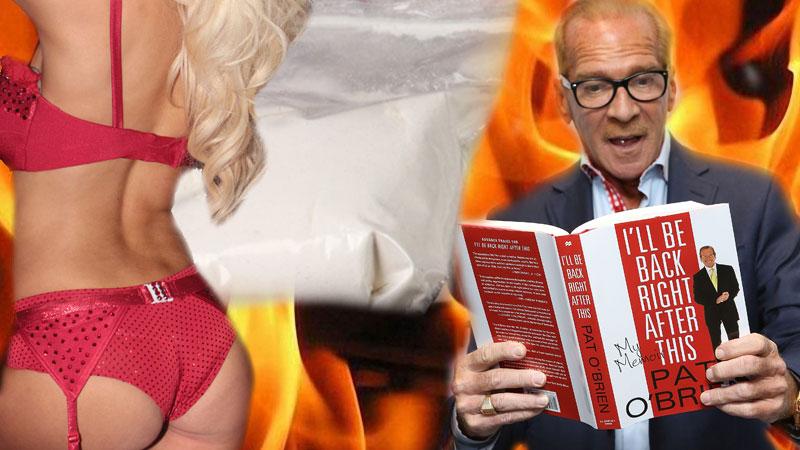 Pat O'Brien has admitted he's in recovery from alcoholism, but the veteran sportscaster and TV anchor has never told the shocking story of his painful, brutal addiction— until now.
In his new memoir, the former Insider reporter— who has now been clean and sober for nearly six years— opens up about his debilitating cocaine habit in the late 70's, when he was working as a hard news reporter in Hollywood.
Article continues below advertisement
"I was doing an insane amount of coke, maybe up to $2,000 a week in today's money," he confesses in I'll Be Back Right After This. "A typical working day would be as follows: Do some blow first thing in the morning, go out and cover the story. More blow while on the story, then around noon we would start drinking. Finish our stories and do more blow. By nine in the evening I would get home and then be back on the road again early in the morning driving to work. I never missed a day. I loved my job."
Though he once managed his habit, O'Brien's drug use began to create chaos. The hard-working reporter covered a story on cocaine trafficking in Colombia, and used his drug of choice the entire time.
"I was introduced to a German woman who showed us the nightlife of Bogota. We went into a back room and smoke cocaine (research), and from that moment I was on about a three-day high," he writes, adding that he soon owed money to some angry local drug dealers.
Article continues below advertisement
"I thought it was a good idea to get a gun…I went back to my villa and sat on my bed, wide awake, with the gun at my side," he recalls. "To comfort myself, I was doing blow and drinking scotch."
The now 66-year-old's drug use came to a violent head when he covered the 1983 Pan American Games in Caracas, Venezuela. During a cocaine and alcohol-fueled night, O'Brien got into a blowout fight with fellow reporter John Tesh.
"He was standing there in gym shorts with a TV camera on his shoulder, which he used to simultaneously film and hit me. He started to beat the sh*t out of me," O'Brien writes. "Blinded by the camera light, I beat a hasty retreat to the bathroom, taking a couple of nasty falls. The fracas reached the bathtub, and as I grabbed on to the shower curtain for support, the entire certain and rod came crashing down on my head and I feel backward into the marble tub."
Article continues below advertisement
He stopped doing cocaine "cold turkey" for the next 20 years—but his drinking only escalated. By 2004, the father of Sean, now 27, had left his longtime wife Linda for his mistress and was drinking three bottles of wine a night.
The next year, the Insider host got so intoxicated at friend Donald Trump's wedding to Melania Knauss, he got booted out of the swanky nuptials.
"I made a complete a** of myself, even stealing a gold fork from the table," he says. "My drunken behavior was so outrageous that the Trump people came over to me and said, 'Pat, it's time to go.'"
After a champagne and cocaine filled bender a few weeks later, O'Brien infamously left a salacious message on a female pal's voicemail, slurring "I want to go f*cking crazy with you…let's get some hookers and cocaine"— and the party was over.
He soon went to rehab, but his stint in Malibu treatment center Promises didn't stick.
"I was coming up to almost a year of sobriety when, driving home from a recovery meeting, I drove into a liquor store and loaded up. I didn't even think twice," he recalls. "My recovery was a sham…I hadn't been honest with myself."
Article continues below advertisement
O'Brien drank through his assignment reporting on Anna Nicole Smith's custody battle in the Bahamas, calling the late model's subsequent tragic drug-related death "a huge trigger" for his alcohol abuse.
Hospitalizations for drinking related accidents and more rehab stints couldn't help O'Brien out of his active alcoholism, but one incident did— the 2008 death of his friend, actor Heath Ledger.
"The death of Heath Ledger…was the last straw," he says. "I had sat next to him on several occasions at 12-step meetings. I felt for the guy. I knew he was uncomfortable with the Hollywood scene and was trying to handle his prescription drug problem."
While covering the horrific story outside Ledger's ex-girlfriend Michelle Williams' Brooklyn home, "I was utterly miserable," he admits. "People from the office were calling my cell and telling me how great I was doing when a friend of mine had just died with the same disease I had."
Upon checking into California's Betty Ford Clinic in 2008, O'Brien weighed a mere 130 pounds, his liver, pancreas and heart were failing, and his blood alcohol level was a lethal .36. He relapsed one last time before arriving at Minnesota treatment center Hazelden on November 5, 2008.
"My counselor…got me back on the tracks," he recalls. "The first thing he said to me was, 'You're going to die…You have to do this for yourself or Sean will be arranging your funeral.'"
Now six years sober and active in a recovery program, the author shares his story because "I don't want to slam the door on my past…it was a learning experience so vivid and so terribly wonderful that I will keep it in my back pocket so I never forget how I got this far down the tracks."