Inside Heath Ledger's Tragic Final Days: His Dark Diary Revealed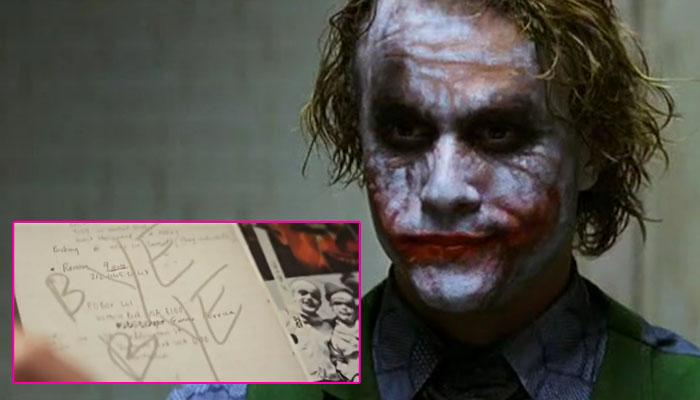 It's been almost five and a half years since Heath Ledger's shocking death. Now, a newly unearthed documentary featuring the twisted diary he kept during the filming of The Dark Knight is shedding light on his final days.
As Heath prepared to play the demented Joker, he once explained, "I sat around in a hotel room in London for about a month, locked myself away, formed a little diary."
In this clip from the German documentary Too Young to Die, his father, Kim, flips through the book's haunting pages.
Article continues below advertisement
"He liked to dive into his characters," Kim remembers. "But this time he really took it up a notch."
Coming upon his notes for the infamous hospital scene, he said, "The hospital scene is interesting because when he was a kid, his sister Kate liked to dress him up as a nurse. He was really funny like that. He also was in the movie."
But the book held more painful memories too. After a makeup test that was done eight months prior to filming, Heath wrote "BYE BYE" in large letters scrawled across a page near the back of the book.
MORE ON:
Michelle Williams
Says Kim, "It was hard to see this."
Now, however, hid dad remembers the good days with his son whenever he looks at Heath's daughter with Michelle Williams, Matilda.
In January, on the five-year anniversary of Heath's death from an apparent overdose, Kim said, "Matilda has the same walk as Heath and is such a respectful little kid. She calls us 'Papa' and 'Grandma Sal.' Our family has the most wonderful relationship with both Matilda and Michelle. We talk frequently and visit as often as we can."
radar_embed service=youtube src="https://www.youtube.com/embed/j04X3B9-dLU" width="560" height="315"