Heath Ledger's Parents Speak Out About His Daughter Matilda On 5th Anniversary Of Actor's Death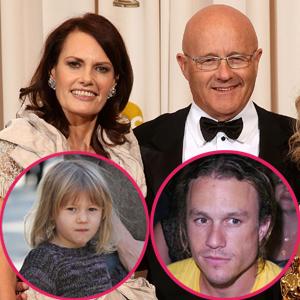 The late Heath Ledger's parents are speaking out about his precious daughter Matilda to mark the fifth anniversary of the actor's untimely death.
In an interview with the Australian magazine, New Idea, Heath's mother Sally and father Kim gush about granddaughter Matilda, now 7, who was left without her daddy when he died of an accidental overdose on January 22, 2008 at age 28.
Matilda's mom is Oscar nominated actress Michelle Williams, who had a relationship with Heath while they made the movie Brokeback Mountain together.
Article continues below advertisement
Fans have noted for years how much Matilda resembles Heath, who won a posthumous Oscar for playing The Joker in The Dark Knight. "Matilda is indeed very much like her dad -- she has long limbs and similar features," Sally told New Idea. "However, she also possesses the beauty of her mamma -- lucky girl."
PHOTO: Michelle Williams: Racy GQ Cover and Spread
Kim added, "Matilda has the same walk as Heath and is such a respectful little kid - she calls us 'Papa' and 'Grandma Sal.' Our family has the most wonderful relationship with both Matilda and Michelle. We talk frequently and visit as often as we can."