Exclusive
Katie Couric Too Drunk For TV, Tiger Woods On The Prowl & Michael Jackson With His Zipper Down: Reporter Pat O'Brien Exposes His Celebrity Pals' Misdeeds In New Memoir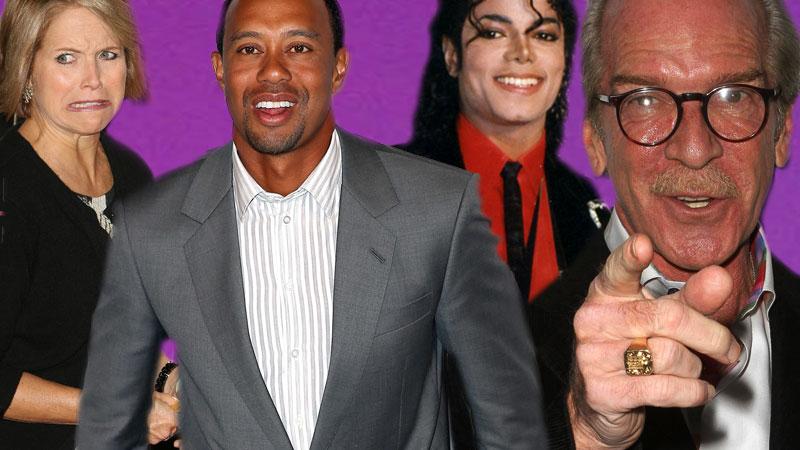 Article continues below advertisement
He admits the former NBC News anchor wasn't the only guest who over-imbibed at the swanky bash.
"Everybody was f*cked-up," the reporter says. "It was kind of a 'get out of the public eye free' affair. And we all took advantage of it."
But he didn't justify a young Tiger Wood's raunchy behavior during a Miami charity event in the mid '90s.
"There was this kid at our table…who hockey great Wayne Gretzky and I determined wasn't even old enough to drink. He was a mere 20 years old and on the cusp of massive celebrity, and so the 'veterans' at the table were giving him (probably unwelcome) advice," O'Brien recalls.
"Suddenly we realized he had disappeared, and when we looked up, he was dancing with two gorgeous blondes," he continues. "Gretzky and I looked at each other and said together, 'Uh-oh!'"
Though O'Brien says the media caught wind of his dirty dancing, Woods clearly didn't stop hunting the ladies there. In 2009, he was famously caught cheating on his wife with lingerie models, nightclub hostesses and porn stars.
Article continues below advertisement
In another priceless memory, O'Brien had a run in with the late Michael Jackson backstage before one of his New York concerts. But the King of Pop was in no shape to take the stage.
"I said, 'Excuse me, Michael, but I'm man enough to tell you that your zipper is not zipped,'" O'Brien recalls saying.
Jackson's close friend, the late actress Elizabeth Taylor, laughed.
"I am glad somebody keeps track of these things!" she said, according to the former Access Hollywood host.
For more gossip from O'Brien's juicy new tell-all, keep checking RadarOnline.com.