Trio Of Porn Stars To Dish On Tiger Woods' Prowess In New XXX Film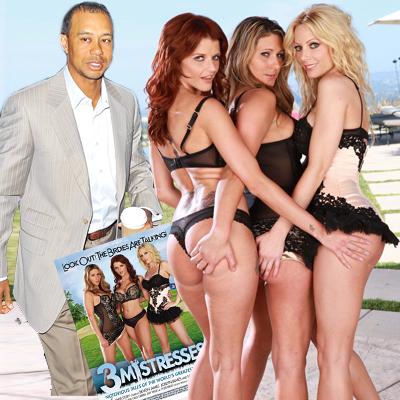 More embarrassment for Tiger Woods -- and it's coming in three's.
Three porn stars he bedded star in 3 Mistresses: Notorious Tales of the World's Greatest Golfer, a XXX movie in which Devon James, Holly Sampson and Joslyn James candidly discuss the then-married golfer's sexual prowess and predilections, as well as simulate the sordid acts they did with male actors.
Article continues below advertisement
"Any time three women get together to talk about the same guy, the results are going to be more than interesting," the film's director, B. Skow, said in a press release. "Now, when these women also happen to be adult stars that have sex for a living, and reveal they have been with the same guy, you can be sure they'll share absolutely everything."
Sexy Photos Of All Tiger's Women
The XXX film, also starring Jon-Jon, Tyler Knight, Deep Threat and Carlo Carrera, comes out April 3, which not-so-coincidentally is the day after the beginning of golf's prestigious Masters tournament.