Elin Nordegren Reveals Her Pain During Tiger Woods Cheating Scandal: 'The Word Betrayed Isn't Strong Enough'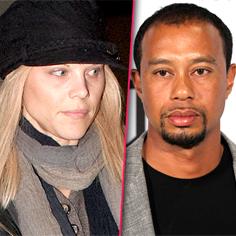 Elin Nordegren was humiliated when her husband Tiger Woods' multiple infidelities were brutally exposed and the young mother said that "the word betrayed isn't strong enough" to describe her pain during their split.
Nordegren, 34, just graduated from Rollins College in Florida after nine years of taking classes, an accomplishment she topped by taking a swipe at Woods during her graduation speech.
"I'm not married anymore," she joked during her speech, earning her a big laugh from the crowd, but the serious nature of her devastating split was difficult to get over.
Article continues below advertisement
"I felt safe with him," Nordegren told People magazine about pro-golfer Woods, and revealed that his cheating broke her heart.
"The word betrayed isn't strong enough," she said about her emotions during their shocking breakup.
However, Nordegren has moved on and is dating the millionaire next door, Chris Cline, and Woods is hot and heavy with pro-skier Lindsey Vonn.
"I have moved on, and I am in a good place," she told the magazine.
"Our relationship is centered around our children, and we are doing really good – we really are," she said about daughter Sam Alexis, 6, and son Charlie, 5.
"He is a great father," she said of her ex.
Recognizing that many women do not walk away from a cheating spouse with a $100 million settlement, Nordegren says she hopes to be an inspiration to others to finish their degrees.
"I'm not saying, 'Oh, I had it so hard, but I still finished school.' I know how fortunate I am."