Elin Nordegren Takes Swipe At Tiger Woods And 'The Wild Storm In My Personal Life' During College Graduation Speech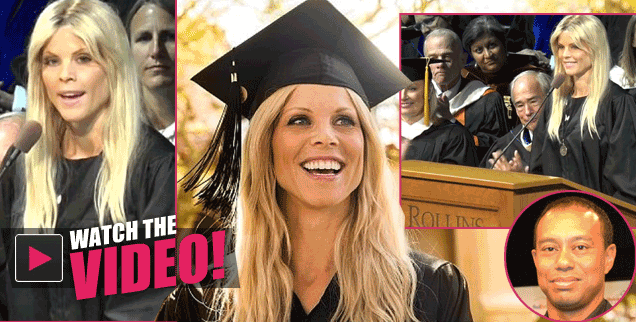 Elen Nordegren used an unlikely platform, her college commencement, to open up about the breakdown of her marriage to Tiger Woods.
Speaking at Florida's Rollins College, where Nordegren was voted Outstanding Graduating Senior and had a 3.96 GPA, Nordegren said her studies "offered me a place of peace in the wild storm of my personal life."
Nordegren first enrolled at Rollins shortly after her wedding to the superstar golfer.
Article continues below advertisement
"I was married without children. Today nine years later, I'm a proud American with two beautiful children, but I am no longer married."
Nordegren, her trademark blonde air falling loosely over the shoulders of her commencement robes, also spoke about the classes she took that were of particular value as her husband's cheating became international news in 2009.
"It was right after I had taken communication in the media, I was unexpectedly thrust into the media limelight. I probably should have taken more notes in that class!"
And she said, in a clear reference to her 2010 divorce proceedings, "My psychology in law class helped me through one of the most challenging times of my life that involved legal matters."
Nordegren's two children were with her for the graduation ceremony, as was her father.
She said she hoped that by completing her degree at age 34 she'd send a message to her kids that "it is never too late to follow your dreams."