Exclusive
Pat O'Brien Claims Former Friend O.J. Simpson Tried To Attack Him, Called Him A 'Phony C*cksucker' At A Miami Party Post Murder Trial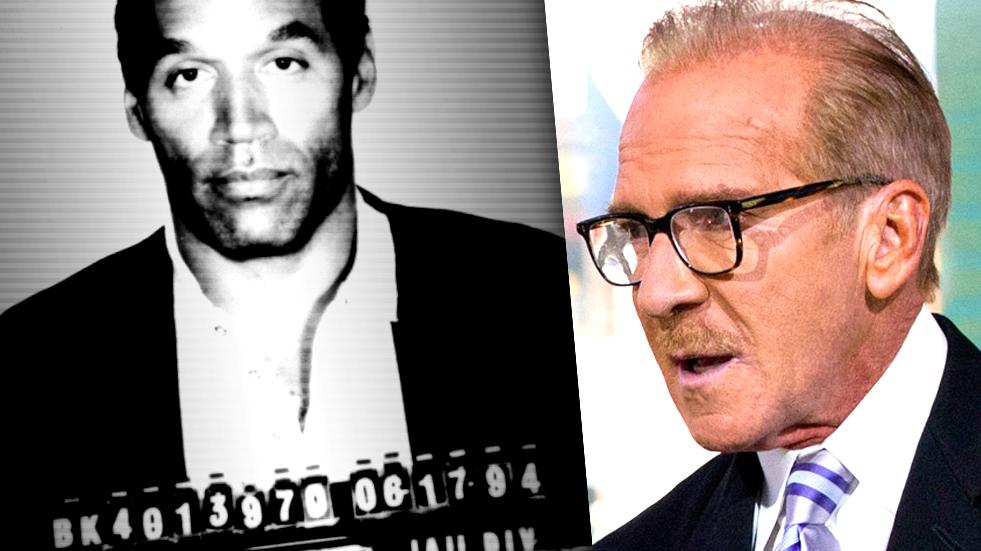 As a veteran sports and entertainment reporter, Pat O'Brien has formed fascinating—and sometimes terrifying— bonds with big stars.
In his new memoir, I'll Be Right Back After This, the former CBS sportscaster recalls a night when he was nearly attacked by his former close friend, O.J. Simpson.
Many years after Simpson had been acquitted of murdering his ex wife Nicole Brown and her friend Ron Goldman in 1995, O'Brien ran into the disgraced former football pro at a Miami party.
Article continues below advertisement
"All of a sudden, O.J. appears and starts screaming at me, 'You phony c*cksucker. You're not a friend. You didn't have my back. You didn't give a f*ck!'" O'Brien writes in his juicy tell-all.
But the reporter was saved by a very, very powerful ally.
"As he started to lunge at me, somebody behind me picked me up and carried me backward out of the room and into an empty hallway….It was Shaquille O'Neal," O'Brien recalls. "He said, 'You owe me one; I got your a** out of there.'"
The former Insider anchor's relationship with Simpson hadn't always been so hostile.
Before learning that his fellow sportscaster friend of ten years had possibly killed his ex-wife, O'Brien says Simpson was "arguably one of the nicest, most genuine guys to be around."
Though O'Brien says he and mutual friends "pretty much gave him up the minute we heard the news," he claims to have attempted to visit the Heisman Trophy winner during his infamous murder trial, but backed off when he learned it would be nearly impossible.
Article continues below advertisement
Simpson's lawyer Robert Shapiro said "Here's the routine: As you arrive at the court, you'll have to spend 45 minutes getting questions from the media. When you leave, that will take an hour. Then afterwards, the tabloids will find out everything you've ever done and whether you've done it or not, you will be in those pages for a couple weeks," O'Brien claims.
"Say hi to the Juice for me," the star says he responded.
For more shocking stories from O'Brien's tell-all, keep reading Radar.