Exclusive
O.J. Is 'Definitely Guilty!' Nicole Brown Simpson's Sister Reveals Why She Still Thinks Simpson Was The Killer 20 Years Later — Plus The Secret Reason She Blamed Nicole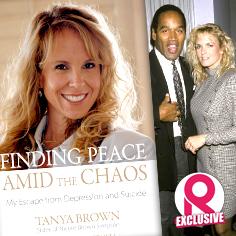 On June 13, the world will remember the shocking murder that made headlines twenty years ago when Nicole Brown Simpson and Ron Goldman were found dead, and O.J. Simpson was named the primary suspect. And while Nicole's sister, Tanya Brown, hasn't forgotten what happened on that fateful day, she has forgiven Simpson. Despite the fact that she insists Simpson is "definitely guilty of doing the crime," Brown opened up in an exclusive interview with Radar to reveal why she thought he was innocent at first, why she blamed her own sister for what happened on that terrible day, and how she's found a semblance of normalcy in the wake of unspeakable tragedy.
Article continues below advertisement
"That morning changed the rest of our family's lives and many other lives," Brown, who has written a new self-help book/memoir, Finding Peace Amid the Chaos: My Escape from Depression and Suicide, says. "It was weird. A lot of that time was a blur."
When Brown was told her sister had been killed, she tells Radar, "I didn't believe O.J. did it. During the time, drive-by shootings were a fad and I thought she was taken down by a drive-by. … I couldn't wrap my brain around how someone I knew since I was seven had so much rage and could do this."
"He was part of our family. He was not a stranger," Brown says of the man she called "Uncle O.J." "So I had a hard time wrapping my brain around this."
"There were a few incidences" that shook her faith in his innocence, however, she says. "There was a private phone call that turned narcissistic, but it was not enough for me to go, 'This guy killed my sister.'"
Indeed, Brown reveals, she had no idea that Simpson could turn violent, nor that her sister Nicole had suffered from domestic abuse.
Article continues below advertisement
"She never shared it with me," Brown says. "I thought it was just a divorce going bad. I didn't think he killed her."
And when Brown found out about the violent incidents in Nicole and Simpson's home, she says, she blamed her sister — at least in part.
Recalling "the anger and hate that I had inside of me" after the murder, "that I had for everyone including Nicole for not telling me about the abuse," Brown says, "She had so many times to share it with me and she never did. That's what victims do. They don't share. There's a lot of shame attached to it, and there's fear, and guilt."
Tragically, Nicole died before she could ever share the burden with her sister, and so Brown was left struggling to find answers in the wake of her death.
While preparing to write her book, Finding Peace Amid the Chaos, Brown says, "I actually took my co-writer to the funeral home" to meet with the director. "I was like, 'What did I say?'"
"'Tanya,' he said, 'you said to me — with expletives — he did it. I can't believe he did it,'" she remembers. "Then the next minute, I'm touching my sister's corpse and leaning over the couch kissing O.J. on the cheek thinking, we're gonna get through this….I was in a fog."
Article continues below advertisement
As the trial of the century unfolded, however, Brown says that she changed her mind and soon came to believe Simpson was guilty. "What did it for me was the DNA evidence," she says. "That just doesn't lie."
PHOTOS: The 10 Most Sensational Celebrity Murder Cases
Still, she struggled for years to find closure and acceptance, especially since Simpson was eventually acquitted of the murders.
"My mind was in a constant yo yo, like, is this really happening?" she admits. "I still have a hard time. I know he did it and I've accepted it and let it go but it's just like, did this really happen?"
Struggling to process the murders and countless other pressures, Brown attempted suicide on October 9, 2004.
"I poured a bottle of klonopin in one hand and had wine in the other," she says. "I was done. I was so tired. The cancellation of my wedding four days before was the trigger …. It's sad, but not enough to want to kill yourself!"
And it wasn't just the grief over Nicole's death, either, she says. "A lot of people have said, 'Oh my god, the injustice and the horrific crime and the murders, no wonder you fell into depression and suicide,'" Brown explains. "People don't know that was just a small part of it. A culmination of everything."
Article continues below advertisement
"No one understood in my family what was going on," she says. "It wasn't just the wedding. It was my suppressed voice during the trials…"
Her sister, Denise, '"and attorney Gloria Allred were the spokespeople for the family," she remembers. "In hindsight, I was being protected, but I had the voice, I had the feelings, I had care, and I wanted to go out there and speak and educate and help, and I was being told not to."
Now, she's finally found her voice and the opportunity to help others find peace as a .
Brown says, "I am a life coach to help people walk through and find peace in chaos, as well as a speaker on mental health and domestic violence. I want people to know that there is help and awareness available to them."
"I had a great role model in my life, my mom," Brown says. "She just always came from a point of acceptance, that it is what it is and we cant' change it."
"I really intently asked for that peace again," she explains. "That's what I share with my clients. We can't allow our tragedies and our trauma to consume us."
And although they remember her sister's passing every year on the anniversary by tossing a rose into the sea, Brown says her family is trying to move on from the tragedy and turn it into something good for others.
Though they'll host a candlelight vigil in Forest Lake, Calif., on the twentieth anniversary, Brown says, "It's not just for Nicole and Ron. It's for everybody who's lost a loved one. I know this is tough. It's hard, but we need to walk through these tornadoes of life, this chaos."