Tragic Faces Of Death: The Sorority Sister Victims Of Mass Murderer Elliot Rodger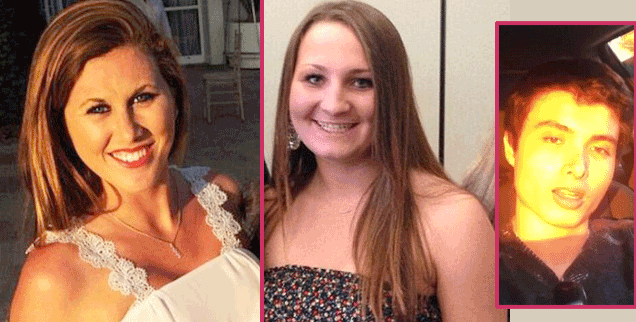 Veronika Weiss and Katie Cooper were always smiling. Whether at their University of California Santa Barbara campus, in their Delta Delta Delta sorority house, relaxing on the nearby beach or volunteering with sick children.
Friday night, they were targeted by Elliot Rodger who had vowed to kill women as revenge for the fact that he was still a virgin at age 22.
"I'm going to enter the hottest sorority house of UCSB and I will slaughter every single spoiled, stuck-up, blonde slut that I see inside there. All those girls that I've desired so much, they would've all rejected me and looked down on me as an inferior man if I ever made a sexual advance towards them," he said in the chilling video Rodger posted to YouTube just 24 hours prior to his killing spree.
Article continues below advertisement
There is no indication that Rodger personally knew Weiss, 19, of Westlake Village, Calif. or Cooper, 22, from Chino Hills, Calif. They were simply outside their sorority house as Rodger rolled by in his black BMW and began shooting. He then also shot and killed Christopher Martinez, 20 who was in a nearby deli.
In a stunning development, it is now known that Rodger, the son of The Hunger Games second unit director Peter Rodger, had stabbed to death his three roommates in their Isla Vista apartment before taking to the streets with his guns.
Rodger had a small army's worth of weapons.
Santa Barbara County Sheriff Bill Brown revealed that Rodger was equipped with two SIG Sauer P226 pistols with 34 loaded 10-round magazines, and a Glock 34 Long Slide with seven loaded 10-round magazines.
In addition to his stabbings and shootings, Rodger also ran down four pedestrians with his car.
The killing spree ended when Rodger took his own life, shooting himself in the head.