Exclusive
The O.J. Tapes: Simpson's Former Manager Releases Never-Before Seen Interview Footage On Eve Of Murder Anniversary — Secret 911 Calls, The Truth About The White Bronco, & What Simpson Says He 'Regretted Most' In Life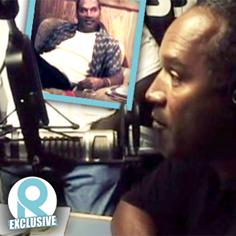 As the twentieth anniversary of Nicole Brown Simpson and Ron Goldman's murder approaches, the man at the center of the scandal — O.J. Simpson — has remained silent, locked behind bars in a Nevada jail. Eager to give a voice to the disgraced NFL star, his manager has now released a documentary, O.J.: In His Own Words. Only RadarOnline.com has a sneak peek and all the exclusive details about the video, which shows an angry Simpson ranting about secret 911 calls made by Nicole, his biggest regret, and what really happened inside that white Bronco.
Article continues below advertisement
Indeed, in the vide clip — filmed before his 2008 incarceration — Simpson lets loose about a variety of topics, beginning with Nicole.
"If I saw a girl with Nicole, I would be all over her," he laughs. "I loved the way that Nicole looked. I loved the way the mother of my kids, my wife, and my girlfriend of 17 years looked."
But he admits, "I was unfaithful to both of my wives, and it's what I've regretted most in my life."
Article continues below advertisement
As for her murder, however, and that of Ron Goldman, he insists, "I was exonerated in the eyes of my Lord. It took me a while. When my trial was over, I was angry. I was trying to get even with a lot of people that said a lot of untrue things. The media, I always say, convicted me, not the jury."
Just one example of the disconnect between public opinion and reality, he says, was the case of the infamous white Bronco, in which he made a widely televised high-speed flight across Los Angeles.
Simpson insists, "I was in three trials. They never brought up the Bronco in a court of law because they knew where I was! … We were going to my house . . . We went to try to go to Nicole's grave. We couldn't get there because the cops are there."
Simpson says a friend "called the police, told them where I was, where I was going."
"The law is, flight can be construed as guilt," he says in the clip. "If you tried to get away, they can bring it up in court and the judge can instruct the jurty that's a sign of guilt. They never brought it up in any of my trials because they knew I wasn't fleeing."
Article continues below advertisement
Eventually, he was acquitted of the crimes, but remained guilty in the eyes of many Americans.
"I'm sure there are whites in America who are angry," he rant in the clip. " . . . When I was found not guilty they were pissed at all blacks."
"I'm sure there's people who don't like me and I couldcare less," he says. "That's their problem."
Simpson also opens up for the first time about the notorious 911 calls Nicole made before her murder, which painted a picture of domestic violence in the Simpson home.
He claims in the clip that a fight over her friends, who he says were hookers, started the drama.
"I don't want these drug people and these hookers hanging around my kids, and I became the bad guy yelling on the tape," he says. "…America made me the dog of all dogs, the poster boy for abuse, because I'm pissed off that drug people and hookers are hanging around the house my kids are at … What other American man who found that out that day wouldn't have been as upset as I was?"