Exclusive
Father-in-Law Knows Best? Frustrated Wayne Gretzky Slams 'Dumb' Dustin Johnson After Cocaine Reports, Source Claims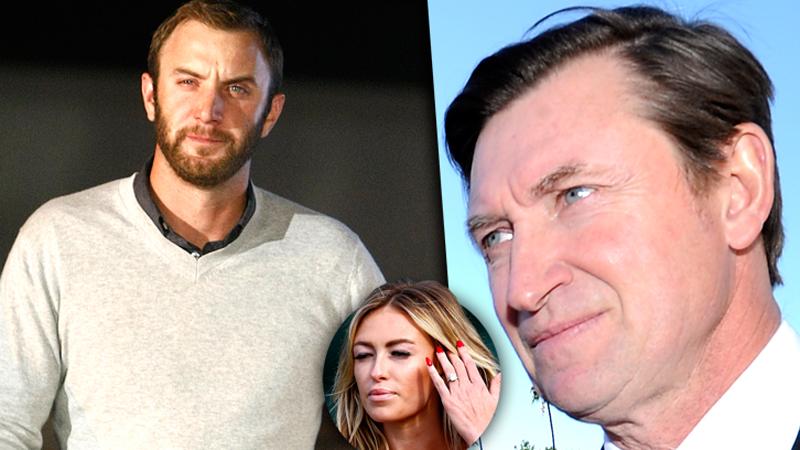 When Dustin Johnson dropped out of the PGA tour amid reports of rampant partying and drug use, there was one person who was probably not surprised. A PGA insider tells RadarOnline.com that Johnson's beleaguered father-in-law to-be, Wayne Gretzky, sees the latest setback as yet another slip-up from his daughter Paulina's "dumb" but lovable fiancé.
Johnson dropped out of the PGA tour amid rumors of dirty drug tests earlier this month. And though former NHL star Gretzky has been supporting him through the fall-out, even hanging with him and the rest of the family in Northern Idaho this week, a source tells RadarOnline.com that he's been venting his frustrations to friends.
Article continues below advertisement
"Wayne is telling friends that it's disappointing, but not surprising," an insider told RadarOnline.com. "He said that he never thought he'd ever meet someone as dumb as his daughter, Paulina … until he met Dustin!"
"Wayne sees how happy Dustin makes Paulina, though, so he's standing by him and supporting him any way he can to get through this," the source said. "Even though he's kind of frustrated, all he can do is laugh at this point."
Indeed, Tim Rosaforte of the Golf Channel reported earlier this month that the Gretzkys had rallied around Johnson at the Gozzer Ranch in Northern Idaho, where he has reportedly been golfing away from the media spotlight.
Story developing.