Johnny Football Under Fire! Manziel Spotted Rolling Dollar Bill In Las Vegas Nightclub Bathroom -- Inside The Ensuing Scandal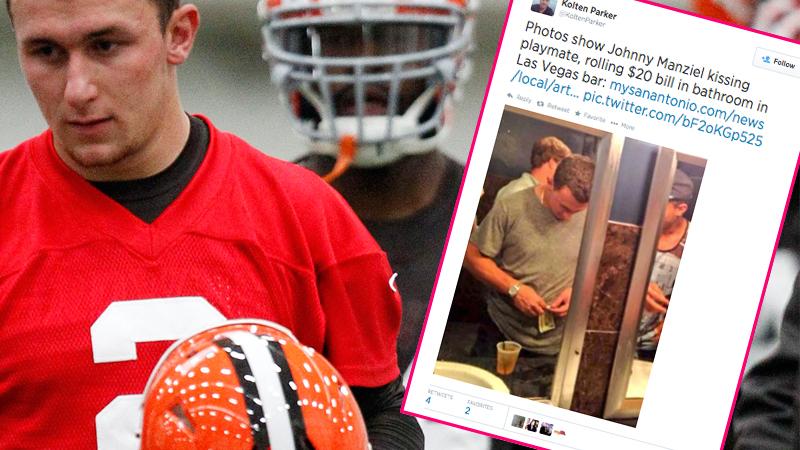 Just call him Johnny Money. Or Johnny Scandal? Cleveland Browns rookie Johnny Manziel is entangled in yet another scandal after being caught allegedly rolling a dollar bill inside a Las Vegas nightclub bathroom. Only RadarOnline.com has all the details of the ensuing scandal.
Though slammed for partying it up in Vegas after the draft last month, Manziel was spotted back in Sin City over the July 4 weekend. And according to BustedCoverage.com, the trip included a stop in a nightclub bathroom to roll the currency, the value of which was unclear. Though the site took pains to note they were not accusing Manziel of anything untoward, sports fans on Twitter were quick to lob outrageous insinuations.
Article continues below advertisement
"Can NFL order an immediate drug test of Johnny Manziel…?" user @Lastwordgcp asked.
And @CraigSagerJr asked, "Why would Johnny Manziel be rolling a $20 bill in the restroom ... Who nose?"
Yet another Twitter user joked that the NFL star, who reportedly stayed with friends in the Real World suite at the Hard Rock Hotel & Casino while in town, was rolling the bill to create a straw for his drink:
Reps for Manziel did not immediately respond to Radar's request for comment.
The Texas A&M star won the Heisman Trophy as a freshman in 2012, but has since made headlines more for his off-field antics and was a disappointing 22nd pick in the NFL draft.
Story developing.