'She's An Ass Kisser Now': Tamra Barney Rips Vicki Gunvalson For Milquetoast, Fence-Straddling Demeanor On Current Season Of 'RHOC'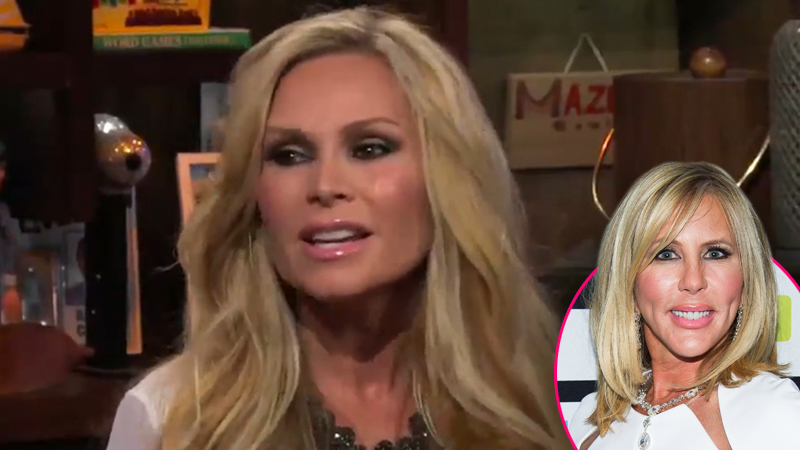 Article continues below advertisement
"Am I a troublemaker?" she said. "Or am I just making the show worth watching?"
Regarding how she might have impacted the precarious situation between Shannon Beador and Heather Dubrow, Barney said that "Shannon kind of tends to get things lost in translation," and in doing so, blows things out of proportion.
Shannon's interpretation of the incident, in which Dubrow asked her to leave her house, is an example of her exaggerations, according to Barney.
MORE ON:
The Real Housewives of Orange County
Barney said that while Beador played the situation off as, "She threw me out of the house, and she did this, and she had evil in her eyes," the reality of the situation was that Dubrow simply told Beador, "It's time for you to leave."
Watch the video on RadarOnline.com:
hulu id=ra9emg54rwk8kqzv2pyfow width=812
One eyebrow-raising tidbit during Barney's Monday night appearance was her growing resentment for her one-time pal Vicki Gunvalson, who she said has hurt her during the current season of the program.
She added that since Gunvalson "doesn't want any drama" of her's televised, "The O.G. from the O.C." has strayed away from the controversy that's kept her as Bravo's longest-tenured housewife.
"Vicki's an ass kisser this year," she said.
Watch What Happens Live airs Sunday thru Thursday at 11/10 on Bravo.