Tamra Barney Judge Admits: I'm A 'Jerk' & A 'Liar'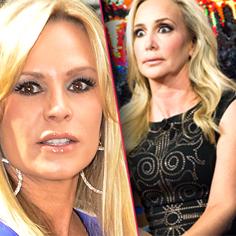 A Real Housewife finally has fessed up to doing something wrong!
After we watched Monday's drama-packed episode of the Real Housewives of Orange County, Tamra Barney took to her blog to publicly admit that she had done wrong by lying to Shannon Beador.
"I totally lied to Shannon and I feel like a jerk!" Barney wrote on her Bravo blog.
To recap, Barney told Heather Dubrow about an email that Beador had received from her husband. She and her husband have been having marital problems for quite some time now, so Beador confided in Barney and asked her not to tell anyone. Thinking that Dubrow normally never tells a secret, Barney told Dubrow – only to have it spread like wildfire.
Article continues below advertisement
"Yes, I will take total blame for it all," Barney wrote. "I should have never told anyone and I feel really bad about it.
Barney wrote that she has told Dubrow secrets in the past, so she felt she could trust her with this information; she wrote that she was concerned about her friend's "excessive" drinking.
"It is just not Dubrow's character to repeat something that was told to her in confidence," she wrote. "It was not like we were sitting at a table making fun of her and her marriage issues.
"It was two concerned friends worried about a new friend that was dealing with some deep problems."
Barney wrote that she lied to Beador when she first confronted her because she panicked. Her previous experiences with Dubrow's trustworthiness led her to be caught off guard by the housewife's transgression.
"At that moment I had was in shock, I wanted to talk to Heather and find out what happened -- we all know how these things get twisted," Barney wrote.
So, Radar readers, who do YOU think is in the wrong? Do you think Beador should be telling anyone about her marital woes? Sound off in the comments below!