'I Feel Bad For Her!' Tamra Barney Having A 'Difficult Time' Sharing Custody With Ex Simon, Says 'RHOC' Star Vicki Gunvalson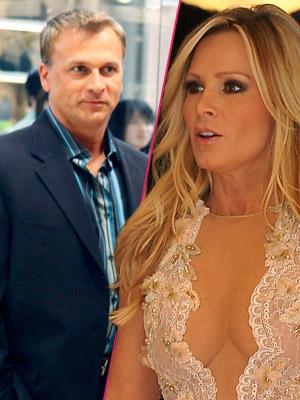 As Tamra Barney remains embroiled in a nasty custody battle with ex-husband Simon Barney, Real Housewives of Orange County star Vicki Gunvalson has come to her defense, shooting down claims that she's an unfit mother.
"When Tamra told us how hard it was for her to share her children 50 percent of the time with Simon, I felt so bad for her," Gunvalson wrote on her Bravo blog this week. "Having the void of not having the three kids around when they are at their dad's I'm sure is huge."
Article continues below advertisement
As RadarOnline.com has reported, Simon filed paperwork in March seeking modification of their child custody agreement. In the court documents, he claimed Tamra was negligent with the children, not properly feeding them or keeping up with their hygiene.
"I know how much her children mean to her, and I know how difficult the time that they spend apart is on her," Gunvalson wrote, before reflecting on her own custody battle with ex-hubby Donn.
"When I was divorced from my children's father, I received 100 percent custody of the kids, which I loved. I couldn't imagine having them split between the two homes and only having them 50 percent of the time," she wrote.
During Monday's episode, viewers learned Barney, 45, was pining for a baby with her third husband, Eddie Judge, but Gunvalson advised her to hold off.
"Eddie doesn't have kids. I can understand why she would consider having a baby with him so he can understand the love that a parent has towards their child," Gunvalson, 52, wrote. "It's indescribable. It doesn't seem like Eddie wants a child right now, so it seems like Tamra should just put that aside."
Tamra told the Bravo cameras that she missed her three kids, who were with her bitter ex-husband for Halloween as part of their 50/50 custody agreement.
"It sucks seeing your kids 50 percent less of their life," she said in a confessional scene. "To me, family is kids running around and the house being crazy and it's hard for me to say Eddie and I are a family when the kids aren't there."