Is This Really A Good Idea? Embattled OC Housewife Tamra Barney Wants Another Child — New Husband Eddie Outraged!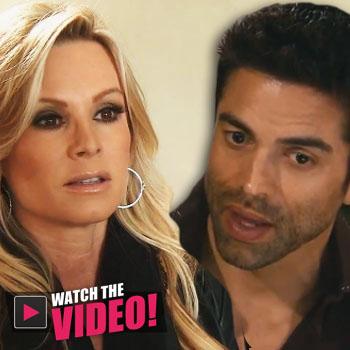 Article continues below advertisement
While at a dinner party thrown by new housewife Shannon Beador, Dubrow took Judge aside to reveal that after having lunch with Barney, she knew the housewife had a baby on the brain.
On last week's episode, Barney had cried to Dubrow and Beador that she was upset because her 50/50 custody situation with Simon made her feel like a part-time mom — and so she wanted to have a child with Judge.
As RadarOnline.com has extensively reported, bombshell court documents have showed Simon is trying to change their custody arrangement, claiming Barney has neglected their three kids. Barney has staunchly denied his charges while daughter Sidney, 15, has reportedly said in court papers that the reality star was emotionally abusive.
Still, while she was filming the current housewife season, Barney seemed to want another baby on board!
Faked Scenes, Lies & Payoffs – The Ultimate Guide To Reality TV Shows
On Monday's show, Dubrow was shown blabbing to Judge, "She's worried that you want a kid. And you've always been very clear, I think, that you don't.
"She got really upset and she started talking about how her kids leave her 50 percent of the time. And if she had a kid with you, it wouldn't leave."
Article continues below advertisement
In a confessional segment, busybody Dubrow then said, "Tamra has always said that it was Eddie that wants a baby. It's really Tamra and I don't think she's being honest with Eddie about that."
When cameras cut back to Dubrow's discussion with Judge, she told him Barney "cried. She got really upset. She was very emotional about it."
Scorned Exes Tell All: Inside Hollywood's Ugliest Splits
Judge told Dubrow, noncommittally, "It's not an easy decision to make."
But later at the party, the hunky fitness coach told Barney, "I was having a good time until Heather hit me up about this conversation you had with her. She said you broke down in tears and told her you were thinking about having a kid because 50 percent of the time, our kids are not with us and you are missing that and that's why you feel like we need to have a kid."
Barney cried, "Why was she talking to you? She SAID that to you?"
Article continues below advertisement
Barney told the cameras, "I think it's wrong and I think it's hurtful to take a conversation I had with her and turn around and tell Eddie."
They Make How Much?! The 23 Highest-Paid Reality TV Stars
Judge told wife Barney sternly, as tears filled her eyes, "It's none of her business. I'd like to keep it between us so please don't share this stuff with your friends."
Later, when Barney went to Vicki Gunvalson's house for Thanksgiving, the RHOC mother hen was babysitting her grandson, Troy. Seeing the little boy crawling around the kitchen, Barney gushed to the cameras, "It makes me want to have a baby. They're so cute and sweet and full of love."
Also on Monday night's show, viewers saw more tension between show newbie Beador and her husband David. She told the other reality stars during her dinner party, "No one laughs as much at his own jokes as David."
Watch the video on RadarOnline.com
Viewers saw Beador complaining as David dangerously lowered the $20,000 chandelier in their home.
"My husband thinks I'm bitching at him all the time…I just want to feel loved. I want to feel important," she admitted.
Article continues below advertisement
Meanwhile, Barney feuded with "fancy pants" Dubrow throughout the episode. She was not only angry Dubrow had spoken to Judge about her baby talk—she also felt the doctor's wife was always putting everyone else down.
The Beadors had a basketball court in their house and all the guests shot hoops -- but Dubrow only watched.
"I'd love to see her burp or fart," Barney said of Dubrow.
Later, a tipsy Barney told Beador, "Pull the stick out of her ass because it's lodged in her throat."
Article continues below advertisement
Faked Scenes, Lies & Payoffs – The Ultimate Guide To Reality TV Shows
Ultimately, however, Barney and Dubrow had lunch to hash things out.
"Every time I tell a story, I'm being cut off," Dubrow told Barney. "You guys are telling me you don't want to hear what I'm saying."
Watch the video on RadarOnline.com
But Barney said Dubrow was a know-it- all! "You treat us like we're below you," Barney said. "It makes me feel like an idiot."
Dubrow said she didn't want to seem condescending, but "I am who I am."
"I don't want to fight about it," Barney concluded, while Dubrow told the cameras, "Sometimes friends need disagreements."
She also told Barney, "I adore you" as they kissed and made up!
In the last storyline of the night, Gunvalson and daughter Brianna talked about their relationship and how Vicki's sketchy boyfriend Brooks Ayers had come between them.
Article continues below advertisement
"If you're with him, just own it!" Brianna said.
She told her mother, "I've seen you in two abusive relationships," and implied Ayers had verbally abused Gunvalson.
But the RHOC star said she hadn't been abused!
"I don't buy that," Brianna said. "Why do you defend him all the time?"
"Brooks has never abused me!" Gunvalson shouted.
Without elaborating, she said of Ayers, "I'm choosing to forgive," and her daughter was NOT happy, especially when Gunvalson told her, "We got back together. We're going to give it another shot."
The Real Housewives of Orange County airs on Bravo Monday at 9/8c.