'RHOC': Tamra Barney Persuades Reluctant Husband Eddie Judge To Have A Child — 'Something Of Ours That Simon's Not Going To Take Away From Me'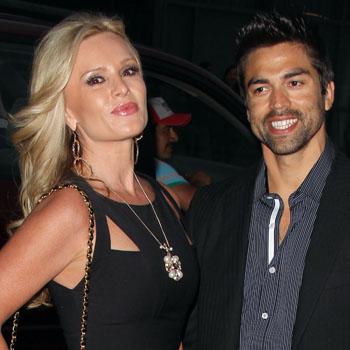 Tamra Barney Judge is not giving up on becoming a mother again with new husband Eddie Judge!
Although her ex-husband Simon Barney is fighting her for full custody of their three kids, charging she is an unfit mother, The Real Housewives of Orange County star keeps begging for another baby with Judge.
And Barney seems determined to raise a child with her new husband because the former one is trying to take the others away from her, as Monday night's episode, viewers saw Barney, 46, bring up the topic again with Judge, 42, while on a dinner date.
Article continues below advertisement
"I was thinking about our talk we had the other day about the baby," she said. "You don't have any children of your own and you're okay with that?"
Scorned Exes Tell All: Inside Hollywood's Ugliest Splits
Judge replied, "I think I will be."
But Barney asked him, "What if I wanted to have one? Would you be okay with that?"
Her husband hesitatingly replied, "Probably."
Watch the video on RadarOnline.com
Barney told the Bravo cameras that Judge had had a "sh*tty childhood" because he wasn't raised by his own mom and dad. She felt he was "afraid to be a father."
When Judge asked her if she really wanted another child, which would be her fifth (in addition to her three kids with Simon, she also has a grown son, Ryan Vieth), Barney said, "I kind of do."
Judge said, "Then let's figure it out. What I'm not okay with is having to raise the child. I don't have time for that."
Barney sputtered, "Well, who's going to raise it? No, this is a group effort! You want me to raise it?"
Article continues below advertisement
"I would need you to do more of the work, yeah," he said.
Barney pointed out that most women do more of the child-rearing, and Judge said, still reluctant, "Okay. I gotta work."
"All men work," Barney argued. "They still raise their kid. Do you not have that fatherly gene?"
Judge then said he didn't deal well with babies!
Faked Scenes, Lies & Payoffs – The Ultimate Guide To Reality TV Shows
His wife argued that all parents are afraid and told the cameras, "Babies don't come with manuals. It's not like his BMW."
Judge admitted the conversation made him nervous, saying, "You are talking about a lifetime commitment."
Barney said, "I know. I've had babies since I was 18-years-old. I like being a mom."
But as RadarOnline.com has extensively reported, bombshell court documents have showed Simon is trying to change their custody arrangement from the current 50/50 one, claiming Barney has neglected their three kids. Barney has staunchly denied his charges while daughter Sidney, 15, has reportedly said in court papers that the RHOC star was emotionally abusive.
Article continues below advertisement
They Make How Much?! The 23 Highest-Paid Reality TV Stars
On Monday night's episode, Bravo's cameras showed Barney tearfully saying, "I would love to have my kids with me all the time and sometimes I feel if Eddie and I had our own baby, that nobody could take it away from me and I don't have to share it with somebody and I wouldn't only get to see it 50 percent of the time.
"I just want something of ours that Simon's not going to take away from me."
Article continues below advertisement
Viewers Monday also saw new housewife Shannon Beador's husband David treat her to a romantic getaway at a ritzy Orange County hotel. As they drank Bloody Marys and lounged in bed, she complained that he never paid attention to her. But then they found they had nothing to talk about!
Later, Beador told her husband she's not going to get a boob job he wanted, especially because of the message it would send to their three daughters. But David told Beador that her breasts needed to be "firmed up a bit."
"It's not going to happen," she told the cameras.
However, David took her hand and said he never wanted to make her angry.
Beador told the cameras she felt she had to fight for his attention, then told him, "You don't make me a priority."
No Talent, No Problem: 25 Stars Who Are Famous For Doing Nothing At All
She was pleased, later, however, when David arranged for rose petals to be placed on their hotel bed to represent a heart. "I wish I was drunker," she said, taking a swig of liquor before they started to turn up the romance.
Article continues below advertisement
In the episode, Barney and Judge and Heather and Terry Dubrow attended an ugly Christmas sweater party for charity and a brand new housewife, Lizzie Rosvek, showed up with her husband Christian.
Rosvek promptly slipped and fell in her high heel shoes and told the cameras she's a former beauty pageant queen raising sons Preston, 3, and Kingston, almost 2.
The Hottest Stars From Reality TV
"I have had big boobs since 5th grade," she boasted, and claimed she had brains as well as beauty.
However, she said although Christian would love for her to be a stay-at-home mom, Rosvek loved her work as a bikini designer and had no intention of sitting around in the suburbs!
Also on Monday's show, Vicki Gunvalson and her troublesome boyfriend Brooks Ayers went out to dinner to discuss their relationship.
"I'm trying still, regardless of the stuff we've been through," Ayers told Gunvalson.
Article continues below advertisement
Gunvalson informed Ayers that her daughter Brianna still didn't approve of him, but he said he'd apologized to her. He admitted what he said to Brianna regarding abuse of women was inexcusable but added, "I've never hit a woman."
Ayers made it clear he also didn't want to spend any time with Gunvalson's friends!
"I love you and I think you're sexier than sh*t," Gunvalson told him. "You make me happy."