Breakdown By The Beach! Shannon Beador Screams About Rival Heather Dubrow At Dinner Party, 'I've F**king Had It With Her!'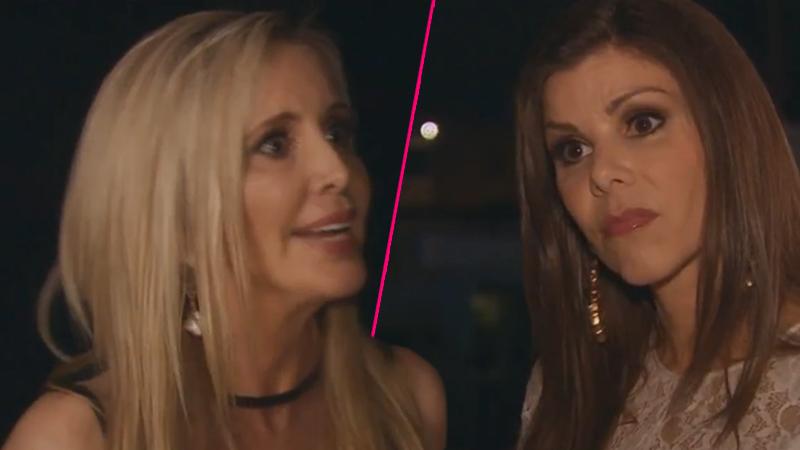 Article continues below advertisement
Barney denied ever saying that, but then stirred things up by telling the Dubrows about Shannon's question, leading Terry to confront the Beadors.
It added fuel to the fire between Beador and Dubrow, who had been feuding since Dubrow told a group of women about Beador's marital problems with her husband, David. (On a previous episode, things got even more bizarre after Dubrow tossed a tipsy Beador out of her house for yelling at her.)
At the dinner party, Barney took Dubrow aside for a private chat and told her of Beador, "She's f*cking crazy."
Meanwhile, Terry told the Beadors at the table, "I don't want to take you guys down," but accused David of making threats and being passive aggressive.
Outside on the balcony of Rosvek's home, Dubrow sighed to Barney about Beador, "Every time I see her, she's yelling at me."
Dubrow also told the cameras, "Once again, I feel like I'm being the scapegoat for something that's going on with Shannon and I find it infuriating."
Article continues below advertisement
Eventually, all the couples — the Beadors, Dubrows, and Barney and her husband Eddie Judge — wound up on the balcony in full attack mode.
David told Barney he was angry with her for telling Dubrow about the Beadors' marriage woes in the first place — and then lying about it before finally admitting to Shannon that she had shared the gossip with Heather.
And Dubrow conceded she'd later told a group of women about the Beadors' problems but insisted she had shut down the loose talk as soon as possible.
"She's lying!" Beador fumed to the cameras.
An enraged Beador, who was still smarting over being tossed out of the Dubrow home, shouted, "You kicked me out of your house!
"You're not going to spin this on me. I came to you….you told me I drank too much, you owe me nothing," Beador said as Dubrow tried to interrupt her.
"It's my turn now!" the fiery blonde yelled over Dubrow's chatter.
"You can't scream at me again," Dubrow sighed.
Article continues below advertisement
A frenzied Beador stormed back into Rosvek's house, saying, "I've f*cking had it with her! You guys will all see the truth!"
Barney tried to subdue Beador, but Shannon said, "I want you to get away from me right now!"
Beador said, "Everybody's lying about me! Someone kicked me out of her house and never said she's sorry."
A preview for next week's episode showed that shaking Shannon getting so emotional that Dubrow suggested they call an ambulance.
Although Vicki Gunvalson stayed out of the night's drama, earlier she had told Dubrow about Beador: "She's broken, she's sad."
But Gunvalson also told the cameras Dubrow wasn't being nice to Beador.
And the most TMI moment of the night, Gunvalson's boyfriend, Brooks Ayers, revealed to the other dinner party guests that her vagina was her best body part.
"I friggin' love it down there," he crowed.
Then plastic surgeon Terry said for him, it was his wife's face!
"Is it the face he created?" Beador snarkily asked in a confessional segment about Heather.
Watch the video on RadarOnline.com: