Exclusive
Bethenny Frankel Should 'Be More Careful' — Body Image & Diet Comments Could 'Spark Weight Concerns' Later With 4-Year-Old Daughter, Says Expert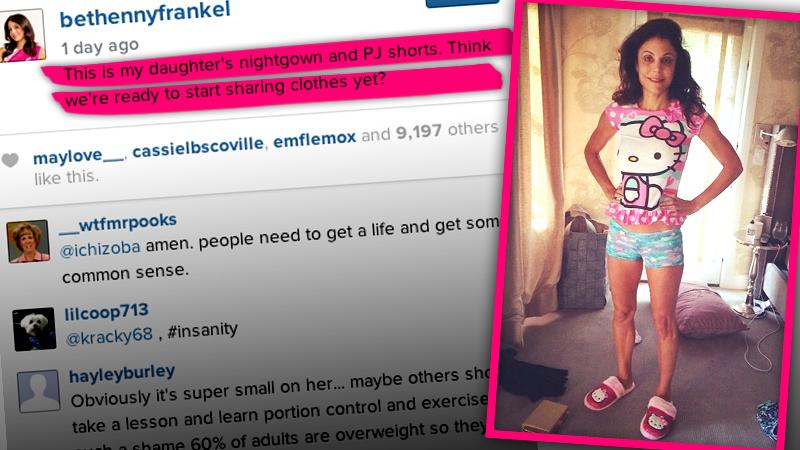 Article continues below advertisement
"The picture can appear to be alarming. I am not surprised that people would think that she is putting out the wrong message to the world about body image," Dr. Cornbluth told RadarOnline.com.
"My advice to Bethenny Frankel is to (1) have a conversation with her daughter about healthy body image and (2) be more careful about what she posts online."
As RadarOnline.com exclusively reported, Frankel's photo in Hello Kitty pajamas meant for a child was nothing more than a calculated PR stunt.
"The woman is absolutely desperate for attention," the source told RadarOnline.com.
"There is no one better at understanding the media, and doing something to create a lot of buzz. It's just who Bethenny is. She has nothing going on right now besides Skinnygirl. It's truly sad, and certainly can't be a good thing emotionally for Bryn."
To be fair, Dr. Cornbluth points out that the wrong assumptions could have been made given the context of the photo — and Frankel claiming it was a joke — but that very real consequences could arise in the future for Bryn if proper mommy-daughter conversations aren't had about body image.
Article continues below advertisement
"Before we throw Bethenny under the bus, we have to take into consideration that she may have had a healthy conversation with her daughter about trying on the pajamas. If she did not, then this is a learning opportunity for her to talk to her daughter about body image," she said.
"It is important to know that self-image does begin to form within children during the pre-school years between the ages of 3 to 5 years old. Therefore, it is critically important that as parents we model a healthy self image for them. Kids pay attention to what we say and do all of the time. Our children do pick up on comments about our dieting. Especially for girls, it is important to know that in the teen years, having ideas about dieting can lead to problems. Many things can spark weight concerns for girls and impact their eating habits in potentially unhealthy ways."
Dr. Cornbluth gives an example of things that could impact girls having weight issues:
• Having mothers concerned about their own weight
• Having mothers who are overly concerned about their daughters' weight and looks
• Natural weight gain and other body changes during puberty
•Peer pressure to look a certain way
• Struggles with self-esteem
• Media images showing the ideal female body as thin

Frankel, 43, and her ex-husband Jason Hoppy continue to hash out a bitter divorce battle and just recently settled the custody portion of their suit with regards to Bryn.

What do you think about Bethenny's photo — just a joke or a cry for attention? Sound off in the comments below . . .