Exclusive
Numbers Don't Lie: Miley Cyrus, Justin Bieber's Popularity Plummets Amid Booze, Drug & Twerking Scandals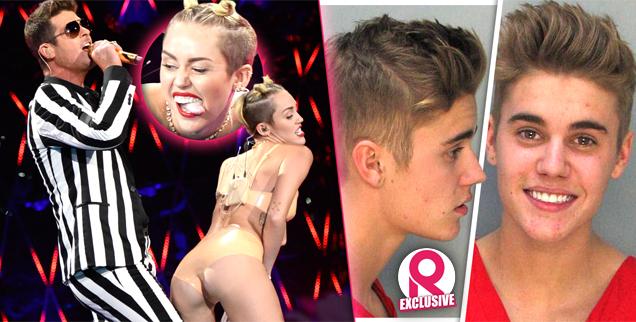 Justin Bieber and Miley Cyrus have paid a high price for twerking, wrecking balls, fast driving, racing and police raids, RadarOnline.com has learned: The pop brats' popularity on the all-important Q Scores, a closely watched measure of recognition and popularity used to evaluate a celebrity's appeal, has plummeted.
"The controversies surrounding their lives over the past year have resulted in significantly higher negative reactions among adults 18-49 for Justin Bieber and among tweens for Miley Cyrus," Harry Schafer, executive vice president of Q Scores, revealed to Radar.
Article continues below advertisement
Just last week video footage of Biebs performing his sobriety tests while in jail in Miami stemming from his DUI and drag racing arrest, showed Selena Gomez's ex-boyfriend unable to walk a straight line.
The Miami Beach Police Department report described Bieber as "excited, talkative, profanity, cooperative, insulting, and cocky" at the time of his Jan. 23 arrest.
Legal troubles continue for Bieber in Southern California​, as he remains under investigation for a possible felony vandalism incident that took place Jan 14.
Article continues below advertisement
He also recently turned himself in on an assault charge in his native Canada where he's accused of hitting a limousine driver in the head Dec. 30 while in Toronto. He's due in court March 10 in that case.
Even though Miley Cyrus hasn't shared Bieber's legal woes, the twerking, wrecking ball wanna-be bad ass has taken a significant hit in popularity.
Among the tween demographic, Cyrus' negative Score increased from 31 in 2013 to a STAGGERING 49 in 2014 and her positive Q number in the same demo plummeted from 20 in 2013 to 12 in 2014.
As we reported last week, Cyrus' infamous twerking gyration with Robin Thicke at the VMA's, was a factor in Paula Patton deciding to split from the crooner.
Eager to distance herself from her former Hannah Montana persona, Cyrus appeared naked, on a wrecking ball, licking hammers and writhing around in rubble for her music video, "Wrecking Ball."
​On the road with her Bangerz tour, she's caught headlines too: Stage antics have included simulated masturbation and oral sex.
However, it's not all bad news for Cyrus, according to Shafer. Her positive score among men 18-49 went from 5 in 2013 to 12 in 2014.
He said average Q Scores for a celebrity such as Taylor Swift ​among tweens is 19 and 16 among the all-important 18-49 demographic.