Miley Cyrus Kisses Katy Perry At Concert -- And She Likes It!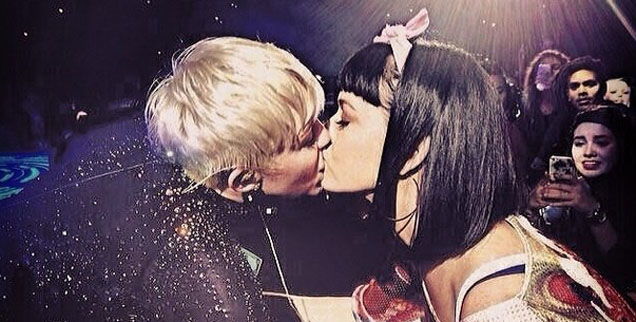 Miley Cyrus kissed Katy Perry onstage Saturday night during her Los Angeles Bangerz concert.
During her song Adore You, Cyrus suddenly shocked the crowd by bending down to Perry, who was in the audience.
And then she gave the "I Kissed A Girl" singer a sexy girl-on-girl kiss!
"I just kissed a girl and I really liked it a lot," Cyrus smirked as her fans went wild.
Perry seemed startled by the kiss, but later, she tweeted her love for Miley: "I adore you@MileyCyrus."
Article continues below advertisement
But Cyrus isn't getting much love for her latest comments, in which the twerk queen says her explicit stage shows actually educate kids!
While parents have complained about the singer's Bangerz tour, in which Cyrus, among other things, has mimed a sex act with a man wearing a Bill Clinton mask and danced in a leotard decorated with marijuana leaves, she insists, "I am excited to go to places where people are usually not exposed to too much good art.
"It can be a good education for the kids who come to my concert."
The raunchy star who first shocked fans last summer by fondling Robin Thicke onstage at the VMAs adds in the new interview, "I want to show people that music can not only be entertaining but educational as well.
"Maybe people don't think of me first when it comes to education, but I might surprise a couple of people."
As RadarOnline.com has reported, Cyrus' latest stage antics have been the most explicit yet, as she has simulated masturbation and oral sex.
But Cyrus, 21, says she's an artist!
"I want this to be a pretty high-end tour," she says of her concerts which started in Canada on Valentine's Day. "I want it to be like good art.
"I work my a** off, and I like who I am."
And in a statement sure to provoke the parents of her young female fans even more, Cyrus says young girls should be more adventurous!
"I don't understand what most girls are wearing today. I find it boring. Why don't younger children try to be more risque?"