Miley Cyrus Shocks In Most Revealing Costumes Ever, Simulates Masturbation & Oral Sex On Stage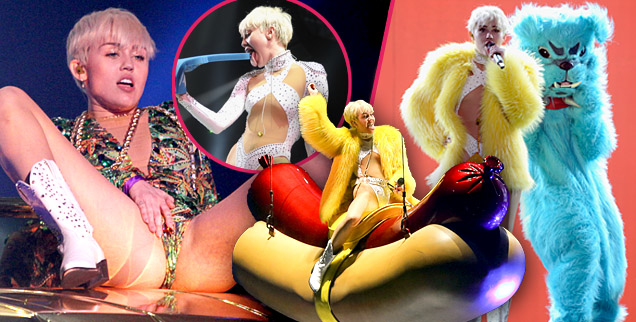 Parents, be warned! Miley Cyrus' Bangerz tour may just be the raunchiest rock concert ever.
The Wrecking Ball singer simulates masturbation while striding the hood of a car and oral sex with a dancer wearing a Bill Clinton mask.
She ogles the bare breasts of one of her female dancers who flashes her while Miley caresses her butt and rides an oversized hot dog and for one number, and wears a unitard covered in marijuana leaves.
Article continues below advertisement
"It was actually disturbing to see kids and parents clutching posters of Cyrus sporting an essentially crotchless unitard or wearing T-shirts showing her making out with herself in the mirror. There were also inflatable bananas on sale (we'll let you figure that one out yourself)," wrote the Vancouver Sun's Francois Marchand.
Sums up the critic, "The spectacle of the Bangerz tour is essentially a bad trip version of the Disney experience, a seedy underbelly version of what Disney really sells children."
Somewhere Robin Thicke is thanking his lucky stars she just twerked with a foam finger during their MTV appearance.