Does Miley Owe Beyonce Her Career? 'Wrecking Ball' Songwriter Speaks Out About Reports Cyrus Stole Track From Knowles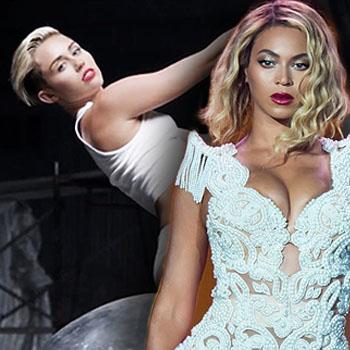 Miley Cyrus likes to think she's one-of-a-kind, but did she steal another artist's song on her way to the top of the charts? Only RadarOnline.com has the truth about reports that Cyrus' mega-hit "Wrecking Ball" was originally written for Beyonce!
Rumors about who songwriters actually wanted to take the track first arose way back in December 2012, when songwriter Sacha Skarbek posted a mysterious tweet: "Beyonce song now becoming a Miley Cyrus song?!! Good/bad? I don't know??!!!!"
Article continues below advertisement
When "Wrecking Ball" was released in September 2013, Skarbek was listed as one of the writers on the track, alongside Dr. Luke, leading many to believe that it was the almost-Beyonce song in question.
Now, a rep for Skarbek tells RadarOnline.com exclusively, "'Wrecking Ball' was not written for Beyonce." But, the rep admits, it almost was.
"Originally, the songwriting session between Dr. Luke and Sacha was booked to write a song for Beyonce," the rep explains. "But as the song 'Wrecking Ball' progressed, the songwriters realized the song would not work for her."
Still, do you think that on some level Cyrus owes Beyonce some of her success? Should she have slammed her pop predecessor? Let us know in the comments!